"The investments will not stand in the way of environmental preservation and ecological improvement," said Luo. "This will definitely require a compromise on economic growth, but given the far-reaching implications, it is well worth the effort."
"The strategy is part of the country's economic rebalancing to rely more on green industries and the service sector," said Xu Fengxian, a senior economist with the Chinese Academy of Social Sciences. "More importantly, tourism prosperity will have a chain effect for a string of relevant sectors, such as airlines, catering and entertainment."
Sparking interest
After becoming the country's youngest province and special economic zone in 1988, Hainan represented a beacon of hope as China's next economic miracle, due to its proximity to Hong Kong and Shenzhen. However, while other coastal provinces drew strength from export booms, the island's economy languished due to a rocky manufacturing foundation and infrastructure bottlenecks.
In recent years, the waves of tourists that wash the sandy Hainan beaches have reached almost tidal proportions, injecting energy into a once-flagging economy. Meanwhile, travel agencies have rushed to cash in on the bonanza. Premium hotels and restaurants have sprouted up almost everywhere.
The overall Hainan economy grew by a robust 11.7 percent in 2009 year on year, painting a clear picture of the upward momentum to come. The island's tourism, in particular, is bursting with vitality as travelers once again reach for their cameras and suitcases after a brief traveling hiatus during the financial crisis, said Tang Yibo, a senior sales manager with Ctrip.com, a major online travel company headquartered in Shanghai.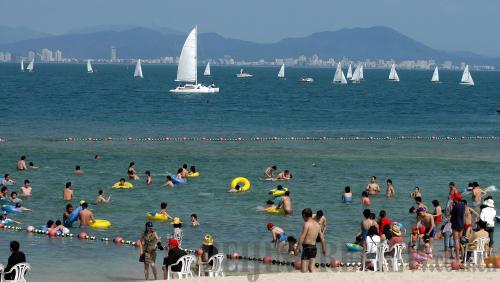 TROPICAL PARADISE: Tourists enjoy the warm weather and sandy beaches in Sanya (MENG ZHONGDE)
However, despite facilities and scenery that are comparable to Bali, Indonesia or the Hawaiian islands, the beauty of Hainan has yet to spark global interest. The island played host to 970,000 overseas travelers in 2008, a number dwarfed by the 19.62 million domestic tourists who came to soak up the sun.
"We still have a long way to go," admitted Luo, citing persistent complaints of tourists being overcharged, forced to buy expensive and shoddy souvenirs or otherwise suffering poor services. "Though they may be individual cases, these problems have truly tarnished Hainan's reputation as an international hot spot."
Reaching even the lowest threshold for becoming an international tourist island will be difficult if the image problem is not appropriately addressed, he said.
Efforts are also needed to strengthen the service quality of tour operators, added Luo.
Ji Dongjiang, Director of the Haikou Association of Travel Agencies, believes world recognition is just a matter of time.
"It will still take some time for Hainan to make it into the top league of global resorts," he said. "But with government backing and global investors, we are definitely getting on the map."
Tang of Ctrip.com echoed Ji's opinion. "Infrastructure and service improvements could help catapult Hainan onto the global stage, but what would make it unique is the Xisha Archipelago with unspoiled tropical ecology, as well as the cultural attractiveness of the local Miao and Li ethnic minorities."