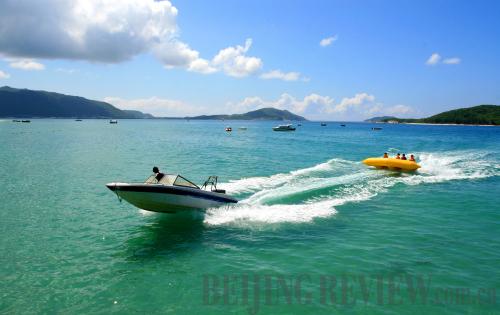 RIDING THE WAVES: Tourists enjoy a speed boat ride in Yalong Bay in Sanya, Hainan Province (ZHANG MAO)
In terms of environment and natural beauty—with entrancing tropical sea views, clean air and skies, sunshine and beaches to name a few—Hainan may have most of the work accomplished when it comes to captivating tourists. But transforming the island province into a true international tourist destination will prove to be no easy task.
According to Chen Yibo, chief of the Division of Tourism Promotion and International Affairs of the Hainan Tourism Bureau (HTB), Hainan falls far behind the standard of an international tourism island in terms of not only infrastructure, but also tourism administration and supporting facilities. In many places, including some tourist sites, there are no road signs in foreign languages and few people speak or understand foreign languages. The service quality at some hotels is also poor.
"In terms of future development, Hainan should adopt internationally friendly practices concerning its tourism administration system and supporting facilities. For example, product design, the language environment and professional training should all be up to international standards," Chen said.
The project of building Hainan into an international tourism destination will undergo three stages, according to a resolution passed at a conference held by the Hainan Provincial Committee of the Communist Party of China on January 13, 2010. The project will be launched in 2010; the international transformation of the tourism elements will be primarily completed in 2015; and in 2020 the major task of establishing Hainan as an international tourist destination will be finalized, making the island province, according to the plan, a top international island resort.
Currently, Hainan's catering, housing, transportation, sightseeing, shopping and entertainment facilities can accommodate 30 million tourists annually. Throughout the province, there are 191 travel agencies, 53 of which are international travel agencies. It also has 259 star-rated hotels, including 20 five-star hotels. Some of the hotel industry's major players, like Hilton, Sheraton and Marriott, now have facilities in Hainan. About 10,000 tour guides work in Hainan, while more than 160,000 people are employed in tourism-related industries.
Hainan's two international airports—Haikou Meilan International Airport and Sanya Phoenix International Airport—connect more than 300 domestic and international routes. The island province also owns convenient tourist transportation facilities, such as ringroad, Guangdong-Hainan railways, a 100,000-ton post boat port in Sanya, as well as light rail in the east part of the island that is currently under construction.
In terms of its tourism infrastructure, Hainan has a solid foundation to construct an internationally recognized tourist magnet. But it will be up to the government and people of Hainan to make qualitative changes to the tourism environment on the island.
International dialogue
"For Hainan, it will be difficult to reach the international standard for comprehensive services. For example, it needs professionals who speak English, French, Russian and other languages. They need training and education, which cannot be achieved in one or two years," Chen said.
According to HTB documents, Hainan is accelerating the internationalization of its tourism industry in accordance with the standard of a top international tourist destination.
The HTB opened a tourist service hotline and an online complaint platform that are responsible for providing information and solving problems in Hainan's tourism market. Cooperating with the Administration of Industry and Commerce, the HTB has also strengthened investigations and punishments involving illegal activities, such as hotels and shops overcharging tourists.
As part of efforts to strengthen its supervision over the tourism market, the HTB has also provided training for tourism industry employees to improve the quality of workers.
Hainan is now innovating its tourism human resource planning and formulating mechanisms to attract talent so its talent pool quantity, quality and structure can meet the requirements of building an international tourism island.
The local government, seeking to accelerate training for senior and basic management staff, has emphasized vocational education by expanding its financial support for local schools and colleges. Famous foreign tourism talent-training institutions have also been encouraged to set up wholly foreign-owned or joint-venture tourism management training centers in Hainan.
To create a language environment conducive to international tourism, standardizing sign posts and public information symbols in tourist areas and improving tourism transportation signposts have become the HTB's top priorities. By the end of 2012, the HTB hopes to have standard bilingual and multi-lingual signs on all major roads and tourist spots. An online interpretation system will also be established to provide international and individualized language services to international tourists via mobile telecommunications.
Efforts to obtain support from the Central Government's financial regulating authorities by the end of 2012 or earlier to set up money exchange windows, allowing a free exchange of small amounts of foreign currencies, are also in progress.
Increasing the number of international hotels and travel agencies in Hainan will, hopefully, bring with them new sources of tourists and air routes. Hainan plans to introduce 20 famous international hotel management groups to the island by the end of 2012, allowing the number of five-star resort hotels to reach 60. It also aims to attract 20 foreign travel agencies mainly from Russia, South Korea and Japan, and encourages famous foreign travel agencies to establish wholly foreign-owned or joint venture travel agencies with the aim of attracting more foreign tourists.