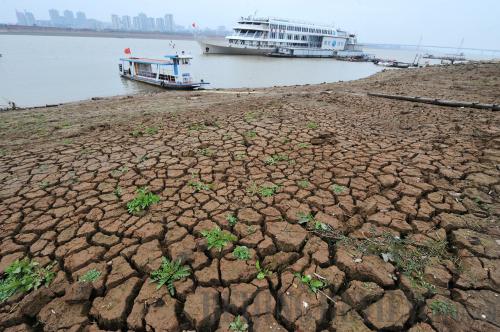 DIMINISHING RIVER: The cracked and dry riverbed along drought-stricken Hunan Province's Xiangjiang River in south China on November 17, 2009 (LONG HONGTAO)
From June to August 2009, the western part of northeast China's Liaoning Province suffered from drought and extremely high temperatures, which damaged about 4.9 million hectares of farmland. Almost 827,000 hectares yielded no harvest as a result of the drought and 3 million people were impacted.
The villagers might not know that a conference held in December on the other side of the globe has something to do with their hard times, but many are waking up to the reality that the disastrous effects of climate change have already begun to exert great influence on people's lives.
"In developing countries such as China, impoverished areas like west Liaoning contribute the least to global warming, yet they are the first to bear the brunt of disasters that are caused by climate change," said Lin Erda, Director of the Agriculture and Climate Change Center of the Chinese Academy of Agricultural Sciences.
The higher frequency of extreme weather events keeps breaking meteorological records, said Luo Yong, Vice Director of the National Climate Center under the China Meteorological Administration. Since 1998, the number of days with temperatures above 35 degrees Celsius has been on the rise while droughts have been occurring more frequently and over wider areas. Meanwhile, more frequent heavy rainfalls and floods have hit areas along the Yangtze River.
"China is a vast country that covers many kinds of climate zones and ecosystems and is very vulnerable to climate change. The negative effects of global climate change on China are huge," said Lin, who added that possible impacts include decreasing agricultural production, which directly influences the livelihood of people. Warmer winters can also decrease the cold tolerance of crops and make pests active throughout longer parts of the year.
On December 10 in Copenhagen, Lin and He Jiankun, Deputy Director of the Committee of Experts on Climate Change, a Beijing-based think tank, joined other members of the group to engage in a dialogue with scholars and experts from the European Union and the United States. They displayed a large body of data about the impact of climate change on China. The think tank, which is composed of 12 leading experts in the field, was established in early 2007.
"Our work is to absorb the wisdom of experts in various fields to give advice on how to deal with climate change based on scientific analysis," said Sun Honglie, former Vice President of the Chinese Academy of Sciences and a member of the group.
Lin and He also attended a press conference held by the Chinese delegation to the UN Climate Change Conference.
"According to our forecast, when the global temperature increases 2-3 degrees Celsius, China's increase will be 2-4 degrees, with the northern increases being higher than accompanying southern increases," said Lin at the press conference. Lin also said the impact of climate change on China will not only raise risks for agricultural production, but will also change the country's agricultural structure.
"Comprehensive estimates show that, without taking action to deal with the problem, China's total agricultural production will decrease by 5 to 10 percent by 2030, and 13 to 24 percent by 2050," Lin said.
Fortunately, governments at different levels within China have been proactive and have taken adaptation to climate change into consideration when making their plans. Lin and his team have traveled all over China in the last 20 years to collect data on the activity of animals and plants. They have established two meteorological models—a regional climate model and an agricultural impact model—that can forecast how climate change will alter agriculture in the coming decades.