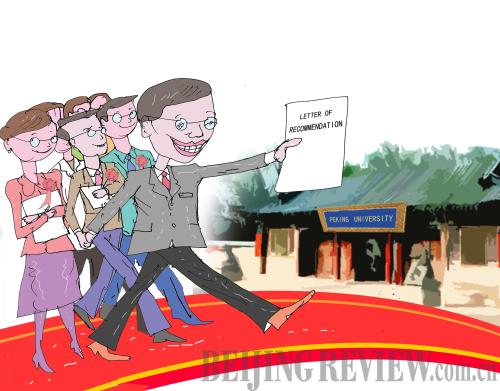 (LI SHIGONG)
Attending one of China's most prestigious institutions of higher learning, Peking University (PKU), is a dream for the vast majority of China's middle school graduates. On November 16, the university released a list of 39 senior middle schools across the country whose principals have been recognized as being allowed to recommend their students to it for preferential admission status. The listed schools are considered the best middle schools in their areas.
The procedures released by PKU say middle school principals should recommend students in writing. If the students can pass a round of interviews at PKU, they will get 30 bonus points to their raw scores in next year's national college entrance examination. Students recruited in this way will comprise about 3 percent of PKU's overall recruitment plan in 2010.
The new policy has attracted a lot of attention. Some believe it is a flexible new method to recruit all kinds of talent and will supplement the present college entrance examination.
But some point out while an effective supervisory system over the new practice is lacking, there will probably be damage to equality and fairness in education.
Have a try
Cai Fanghua (Beijing Youth Daily): Although the middle school principal's recommendation policy has already been tried in cities such as Shanghai, because of a lack of information transparency, the public knows little about it. So when PKU released its principal's recommendation policy, the public's feedbacks have been almost all based on imagination. People are afraid when middle school principals are allowed recommendation rights, the policy might impair equality in education.
To judge whether the recommendation policy is a positive practice, we need to first find out its position in the overall college entrance examination reform. Some people take it for granted the recommendation policy means middle school principals are allowed to recommend students directly to PKU, and thus they are worried about the abuse of this privilege. Others believe the recommendation policy will overthrow the present college entrance examination. As a matter of fact, the recommendation policy is only a supplement to the colleges' independent recruitment of students, to make recruiting excellent students simpler.
No reform measures are perfect and sometimes actions are wrong, but as long as the direction of reform is positive, we should be tolerant of it. If we compare the recommendation policy to the existing bonus-point system, the positive aspects of the recommendation policy are obvious. With a recommendation system, the whole situation is controlled by colleges, and is guaranteed by the recommender's reputation. Thus, the whole process can be very transparent and if there is any corruption, involved parties will have to pay a high price. But, comparatively, under the current bonus-point system, local schools and education authorities have the final say.
The public is reluctant to accept the principal's recommendation system, because they have no confidence in its basic social credibility. The point is, because of many unfair cases in the current education system, we need to allow a brave exploration into a fairer one. If the recommendation policy is denied, reform of higher education may become more difficult.
Cao Lin (Yangzi Evening News): If the principal's recommendation policy is to be practiced, openness and transparency should guarantee the system.
Many people are worried about the recommendation criteria. While the school principal is the one who sets it, abuse of privilege is likely.
As far as the recommendation policy is concerned, people are worried about corruption because of the lack of objective and recognized measurement for criteria. But the recommended students will eventually be exposed to the most critical scrutiny by the public. Under the circumstances, the principals have to recommend students who are widely recognized as qualified.
Cons outweigh pros
Shi Yanping (www.dahe.cn): What does PKU's middle school principal's recommendation policy target? It's to make the current college recruitment system more flexible, but when only 39 school headmasters have the right to recommend excellent middle school graduates, is it really a flexible way of recruiting excellent students? This policy is nothing but an extra opportunity for the 39 schools.
A quarter of the schools on the list are from Jiangsu Province, which is culturally and economically developed; but in relatively underdeveloped provinces, not even one school has recommendation rights. Besides, all of the 39 schools are key middle schools. Is it because these schools produce students achieving high scores that their principals have access to recommendation rights? Is this the right kind of award by PKU to them?