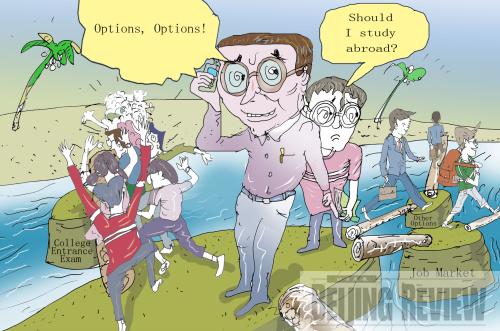 (LI SHIGONG)
This year, China's national college entrance examination saw a decrease in candidates, with some provinces registering a substantial 10-percent drop.
For years, the number of candidates had risen steadily. According to statistics from the Ministry of Education, the number of exam sitters rose from 5.27 million in 2002 to 10.5 million last year.
Education experts attributed the fall to fewer senior high school graduates in this year due to the end of the third baby boom in China in the early 1990s. The financial crisis, which began last year, has made it even more difficult for college graduates to find jobs, which is eroding some young adults' belief that college will ensure them a relatively good job. As a result, many decided to give up the college entrance examination. These experts believe the declining candidate number is not a bad thing, but it actually reflects people no longer hinge on this examination for a better future. Students now have more choices for their future career paths.
However, there are different voices, although some students may prefer to turn to other ways to achieve their career ambitions. Pessimists believe that the declining exam candidates is not necessarily a good thing, especially when it comes to rural students, who are overshadowed by huge education costs and a gloomy job market. Giving up the college entrance examination is not the right option and the sharp drop in candidates will bring many negative impacts on the country's future development.
Social progress
Shan Shibing (China Business View): Studying is the most important thing in traditional Chinese view, so it is understandable that giving up the college entrance examination must be a tough choice. It also shows that people's attitude toward the exam has changed. It's not a student's only choice any more, and universities are no longer held in such reverence. Saying goodbye to the time when universities arranged jobs for students, we can see the way we now have to get a job has changed a lot. Modern society creates more opportunities but higher education cannot keep up with the development.
Among the large number of students giving up the exam, some make choices based on their interests and dreams. I hope this group will find opportunities for success in different places, as I believe universities are not the only incubator of talents in modern society.
Cong Xiaobo (www.xinhuanet.com): Some people believe that the drop in students taking the exam has provided strong evidence to support the shortsighted view that studying is useless. However in some people's opinion, the national college entrance examination is not an inseparable part of education. In modern society, there are lots of ways to acquire skills. The purpose of studying is to receive basic education and gain some skills that help children become useful rather than just being proficient at taking this exam.
Nowadays, some parents encourage their children to choose vocational education instead of receiving regular higher education. Quite a number of high school graduates are interested in studying abroad or starting up their own business. These choices are all smart and reasonable and should be understood and respected.
All in all, the decreasing number of students taking part in the college entrance examination means a decrease in the number of university graduates. It is good to relieve the employment pressure.
Xi Xuchu (www.nfdaily.cn): It's natural that the decline in population growth rate results in the decrease of candidates for the national college entrance examination. As for those who voluntarily give up the exam, there are different reasons. Some may do so because of poverty, but many of them give up because of their changing attitude toward the exam. This can be regarded as an encouraging signal of diversified criteria for academic success.
In the traditional view, people who receive university education can be called talented. As a result, taking the college entrance examination and going to universities are the most important things for all students, while parents and students largely ignore vocational schools. But an overemphasis on university education makes the talent structure unbalanced and now an increasing number of university students cannot be regarded as talented.
Choosing vocational schools instead of regular tertiary institutions is the result of more opportunities for blue-collar workers in the job market.
Giving up the exam does not mean that studying is not important. On the contrary it reflects the concept that students should not study useless knowledge. It seems that students giving up the exam happened after the outbreak of the financial crisis causing severe job shortages for graduates. But ignoring the financial crisis, the difficulties in finding jobs are the problems graduates have to face sooner or later and the financial crisis can only be regarded as the catalyst.
Li Liuhe (www.cnhubei.com): The drop in college entrance examination candidates means that the importance of this examination will gradually diminish. At the same time, education will focus more on the creativity, sense of responsibility and imagination, while problems like malnutrition, hypogenesis, psychological weakness and the lack of self-confidence that are universally found in students today can be better tackled.
When the college entrance examination is no longer the thing that can determine a student's fate, the status of this examination in the entire education system will be well clarified. This change will not affect the quality of elementary and higher education. When not all students take the college entrance examination as the only target of studying, many problems in the current education system will be more easily solved. This will also save a lot in education costs.
Helpless choice
Chen Yizhou (www.china.com.cn): The global financial crisis did inflict some negative impacts on this year's job market, but I don't think the decline in college entrance examination candidates is a direct result of the crisis. The decline is not a reflection that students have more opportunities besides higher education to achieve success in life. At the present stage, because of rigid household registration controls, unequal income distribution system and so on, the college entrance examination remains the best way for someone from the lower class to move up the social ladder. Against this backdrop, no matter how many other opportunities are offered, none of the other ways are able to offer students, especially those from remote rural areas, such a broad scope of development.
Because of insufficient opportunities, although there are a lot of deficiencies in the national college entrance examination, people have to take the exam year after year. Now a college graduate may find it hard to find a job, but is it very easy for a non-college graduate to get employed?
I believe most of those who give up the examination come from poor families. As we know, children from rich families do not need to consider whether to go to college or not. If they fail the college entrance examination, they may choose to study abroad. Only in China the poor have to think carefully about jobs, high tuition fees, etc. If they cannot see a promising future, they have to give up this only opportunity.
When so many students give up the college entrance examination, it must be a reflection of the tough living conditions of the lower class.
Shi Yanping (hlj.rednet.cn): Strictly speaking, in China, the national college entrance examination remains the only way for talent selection. That is to say, those who do not take part in the exam will be denied access to regular higher education.
After all, senior high schools only offer their graduates some basic knowledge, so it's uneasy for those teenagers to make themselves ready for society without further education in colleges.
The employment of college graduates is already a serious social concern. What we need to do is to make full use of the talent our education system has already produced, so as to restore people's confidence in education. When this is done, it's ok if there are more talent selection options other than the college entrance examination.
Zhang Guifeng (Yanzhao Metropolis Daily): Is it true that the decline in college entrance examination candidates implies that students are changing their concept of education? I don't think so. I would rather believe it has resulted from a deteriorating education quality.
Official statistics show that regions that saw the sharpest decline in college entrance examination candidates are provinces like Shandong and Henan, where rural students make up a big proportion. It is the unfair enrollment system that leads to the current candidate decline. In the past 30 years, the proportion of rural students to total undergraduates has dropped almost 50 percent, while in the 1980s rural students accounted for 30 percent of the total.
Apart from the unequal admission system, the quality of higher education is another problem. China has been expanding the enrollment of college students for almost 10 years and the country may now have the largest number of on-campus students in the world context. However, China's colleges and universities seem not prepared to accommodate so many students. The quality of higher education is deteriorating fast.
At the same time, due to the increasingly bureaucratic management mechanism and outdated academic performance assessment system, the learning atmosphere in China's colleges is worsening.
China Youth Daily recently conducted a survey that found that 34.7 percent of the respondents regretted having gone to college while 51.5 percent of them expressed they learned nothing useful in college.
Therefore, faced with the declining examination candidates, people should not take it for granted that it's because students are changing their concept of education. Intensified efforts should be made to push forward necessary reforms to make the development of China's higher education conform to social progress, so as to restore whole society's confidence in the country's higher education system.