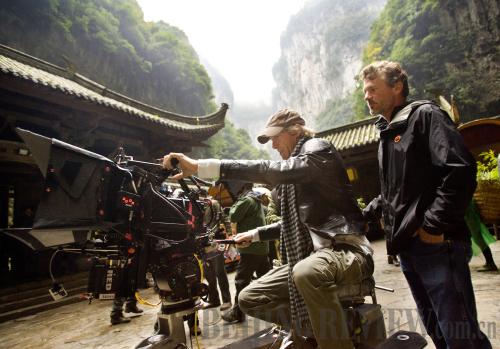 TRANSFORMING CINEMA: A camera unit from Hollywood shoots scenes for the Transformers sequel in a scenic spot of southwest China's Chongqing on October 30, 2013 (FILE)
For example, Iron Man 3 took 768 million yuan ($124.06 million), ranking second at the Chinese box office. Four minutes of additional footage, featuring Chinese actors Fan Bingbing and Wang Xueqi, was added to the Chinese release in order to boost its popularity with local audiences.
Another U.S. blockbuster, Pacific Rim, collected $114.32 million at the Chinese box office, a considerably larger sum than what it earned in the United States. Similarly, much of Gravity, which also cracked China's top 10, was set in a Chinese space station. When Chinese people see their national flag or Chinese characters in a film, they feel a much greater connection to the story.
China's burgeoning box office has caught the attention of many Hollywood filmmakers who have attempted to cash-in on the unstoppable growth of the Chinese market. Films such as Iron Man 3 and the upcoming Transformers 4 often pander to local audiences by including Chinese elements. This explains why many Hollywood stars and directors, such as Leonardo DiCaprio, Nicole Kidman, Michael Bay and Alfonso Cuarón, have recently made trips to China, hoping to drum up business.
"Chinese faces and settings will definitely be highlighted in more Hollywood productions," said Zhu.
But Chinese cinemagoers are hard to predict. Tiny Times, directed by Guo Jingming and based on his own novel, hit $79.12 million. The film courted controversy due to its superficial values and ostentatious displays of luxury. Yet despite its poor critical reception, teenagers across the country flocked to cinemas to see the film. Guo said the success of the movie could be attributed to his millions of young fans.
A 2012 deal, brokered between China and the United States, has allowed Chinese cinemas to show more Hollywood productions each year, with the quota increased to 34 films annually.
But more Hollywood films launching in China has led to intensified competition. Many Hollywood blockbusters have to compete against each other in the Chinese market. For instance, last November, four Hollywood blockbusters, Thor: The Dark World, Gravity, Escape Plan and The Hunger Games: Catching Fire, all crowded into China's cinemas one after another, at almost the same time.
Investing in film
More and more investors have been enticed by the substantial returns offered by the booming film industry. In the past three years, the number of Chinese filmmaking companies has grown rapidly, with statistics from the State Film Bureau suggesting that the total is now in excess of 1,000 companies.
However, homegrown films are facing increasingly fierce competition from each other. Last year China produced 638 films, of which no more than half reached theaters. Despite rising box office grosses, most domestic films and filmmakers still failed to break even. Film producers have realized that they need to exercise market discipline. Thus, producers have cut down on redundant projects and focused their attention on a smaller number of films.
China Film Group Corp. (CFGC), a state-owned film giant, remains one of the largest corporations in the Chinese film industry. In 2013, the 25 films that CFGC produced or released earned over 20 million yuan ($3.3 million) each at the domestic box office. CFGC took a total of 5.9 billion yuan ($974.7 million), nearly one third of last year's total box office gain.
Yet many private companies have proven themselves to be powerful players in the film industry. Huayi Brothers Media Corp. (H. Brothers), the largest domestic private film production company, was China's second highest box office earner in 2013, collecting 3 billion yuan ($495.6 million).
LeTV is the dark horse of the Chinese film industry. In the three years since it began its business, LeTV has shot into the top three private film companies, with nine films and 1 billion yuan ($165 million) earned at the box office in 2013. Tiny Times was one of LeTV's highest performing productions.
Zhang Zhao, President of LeTV, has pioneered the O2O (online to offline) business model since the company was founded. LeTV has developed into an industry heavyweight by releasing films both in theaters and via online video-on-demand.
In Zhang's opinion, the Chinese film market has not established a mature chain of production, from film production to marketing.