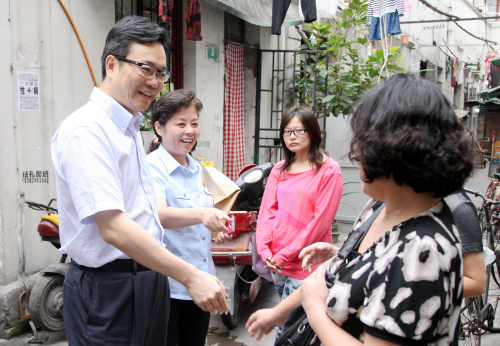 MODEL JUDGE: Zou Bihua (first left), the late Vice President of Shanghai Higher People's Court, chats with local residents while visiting a Shanghai neighborhood, on September 29, 2013 (XINHUA)
On March 12, Zhou Qiang, President of the Supreme People's Court (SPC), delivered the SPC's work report at the annual legislative session in Beijing. "We feel a deep regret for wrongful convictions. Courts at all levels should learn a profound lesson from mistakes, and further improve the mechanism to effectively prevent wrongly judged cases and timely rectify them," he said.
In 2014, courts across China retried and changed the sentences of 1,317 criminal cases, including the case of Hugjiltu, an 18-year-old man who was wrongly convicted of murder and executed 18 years ago, and the case of Nian Bin, who was suspected of poisoning a former neighbor's two young children, but was released after eight years of imprisonment because of "the facts were not clear and the evidence insufficient."
Judicial authorities' courage in correcting their own mistakes has elevated public confidence in the system. At this year's session of the National Committee of the Chinese People's Political Consultative Conference (CPPCC), members of China's social science circles offered suggestions on how judges can be more just.
Responsibilities
According to China's Criminal Procedural Law, trials shall be conducted by a collegial panel whose members are either all judges or a combination of judges and people's assessors. Cases in a county-level people's court may be tried by a sole judge.
The law stipulates that after holding a court session and conducting deliberations, a collegial panel will render a sentence. If a collegial panel deems it too difficult to make a decision on complicated case, the collegial panel can request the president of the court to submit the case to a judicial committee for further discussion and decision.
The judicial committee is a court's leading organization, whose main tasks include summarizing trial experiences, discussing important or difficult cases and other trial-related issues.
The Third Plenary Session of the 18th Central Committee of the Communist Party of China was focused on comprehensively deepening reform. At the session, the central leadership decided to "reform the judicial committee system, improve the responsibility system of handling cases by the presiding judge and the collegiate bench, by which the judge hands down verdicts and the collegiate bench is responsible for carrying them out."
"Only through trials in court where public prosecutors and defenders can debate on the evidence, are judges able to hear their opinions and give verdicts," said Shi Jie, a CPPCC member and Director of Sichuan Dingli Law Firm.
Shi believed that judges are crucial to pushing forward with the trial-centered litigation system reform, yet problems with the judicial committee system to some extent have prevented judges from dealing with cases as they should be.
Shi illustrated the problems with the judicial committee system with some examples. First, a judicial committee sometimes makes decisions according to a judge's oral or written reports, while such decisions violate the principles of direct trials and open trials.
Second, China's Criminal Procedural Law stipulates that a collegiate bench can submit a difficult, complicated, or significant case to a judicial committee, yet such cases have not been well-defined, so there is some randomness in selecting the cases to be submitted to a judicial committee, Shi said.