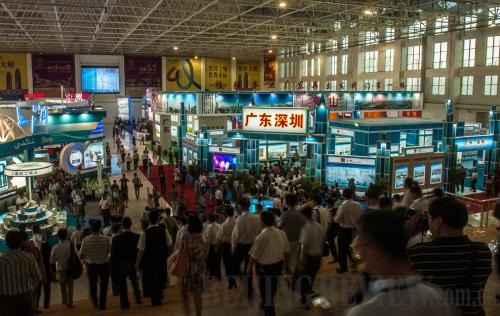 TRADE EVENT: The ninth Kashgar Central & South Asia Commodity Fair kicks off in Kashgar on June 28 (SHEN QIAO)
The oasis where the northern and southern routes of the Silk Road converged thousands of years ago remains an important commercial hub owing to one vitally important factor: location.
A prefecture-level city in northwest China's Xinjiang Uygur Autonomous Region, Kashgar is located near the western edge of the Taklamakan Desert. This fabled city was a crucial link in the silk trade, connecting India, Central Asian countries and China.
Now, it is much easier to get access to Kashgar with planes and trains. The Kashgar Big Bazaar, or the Middle and Western Asian Market, originated 2,000 years ago as a place of commercial and cultural exchange for people from inland China and neighboring countries. Even today, the bustling market's 5,000-plus vendors sell tens of thousands of different goods and watch about 100,000 visitors pass their stalls each day.
Mohammad Hasim has been running a hat shop in the bazaar for 20 years. "I was born in Kashgar and started my business right after I graduated from high school," said 38-year-old Hasim.
The peak tourism season in Kashgar is from May to September.
"Many tourists come here for my wool hats as they are of good quality and cheaper than many other places," Hasim added. According to Hasim, a hat that costs 400 yuan ($64) in the regional capital of Urumqi can be had for half that in Kashgar.
Trading fair
Besides the bazaar, merchants swarm to Kashgar for business opportunities in June and July for the Kashgar Central & South Asia Commodity Fair.
The first Kashgar fair kicked off in 2005. Like a bazaar, it is not strictly limited to commodities. Food, textiles, clothing, machinery and electronic products are among the major goods traded.
On June 28-30, the ninth Kashgar fair was held with more than 1,500 business people from nine countries attending, nearly three times of that in the previous years.
Garments, perfume, and regional jade ornaments were the main items in the fair's Foreign Commodities Zone.
Hawuz Illimas is a perfume and cosmetics dealer from Turkey. "I've studied the market in Kashgar before and this time I decided to come and explore it once again," said Illimas.
Even though Kashgar's location is relatively remote, Illimas sees potential and believes it can be as bustling as Beijing or Shanghai in the future.
"It's the second time I've taken part in the fair. This year's fair has changed a lot, with bigger exhibition halls, more booths and more visitors," said Razi Khan, who brought around 2,000 jade ornaments from Pakistan to "earn big bucks."
Khan said that his elder brother, who runs a foreign trade company in Kashgar, also took part in the fair to seek out new business opportunities, as they believe "business in the East is shifting to Kashgar and the less-developed region of west China."
"Because Pakistan has a very close affinity and geographical links with Kashgar and west China, the potential for a massive increase in cross-border trade is definitely there," said Tariq Puri, Chief Executive of the Trade Development Authority of Pakistan.
"With the great support from the Central Government, Kashgar has been developed into a major trading and logistics hub linking China and Central Asia," says Ye Lin, Deputy Commissioner of Kashgar Prefecture.