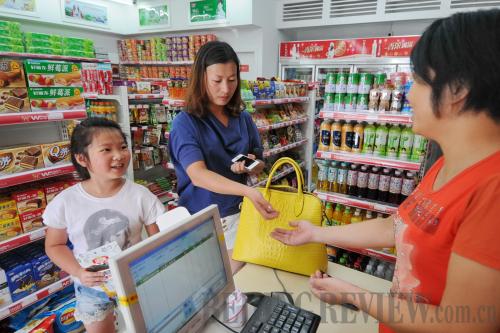 AIDING SMALL SHOPS: A woman pays for goods at a shop in Fuzhou, Fujian Province. The provincial government grants 10 million yuan ($1.63 million) in subsidies to 500 convenience stores across the province (LIN SHANCHUAN)
At a time when economic growth is sluggish, the Chinese Government has strengthened support for small and micro-sized enterprises. The State Council announced that value-added and turnover taxes for small businesses with monthly sales of less than 20,000 yuan ($3,262) would be suspended as of August 1.
The National Development and Reform Commission (NDRC) issued a statement on its website on July 26 saying that financing services for small and micro-sized enterprises would be strengthened. On the same day, the People's Bank of China (PBC), the country's central bank, announced that it would push the country's banks to increase credit to small and micro-sized enterprises. Traditionally, these enterprises have faced difficulties securing loans, which have normally been reserved for large state-run companies.
According to figures from the State Administration for Industry and Commerce, there are 50 million small and micro-sized enterprises in China, of which 6 million will benefit from the tax-free policy, ensuring jobs and incomes for tens of millions of people.
Small and micro-sized enterprises have long been a major source of jobs in China. However, limited by factors such as capital, technology and talent, small and micro-sized enterprises are weak when it comes to modern management and securing financing, all of which hold back their development.
Jia Kang, Director of the Research Institute of Fiscal Science at the Ministry of Finance (MOF), thinks that supporting small and micro-sized enterprises will help encourage the establishment of more businesses and invigorate confidence in small and micro-sized enterprises, which are key in ensuring stable economic growth and expanding employment.
Thorough investigation
Since the end of May, the Ministry of Industry and Information Technology (MIIT), the NDRC, the MOF, the PBC and the China Banking Regulatory Commission have all made field investigations in eastern, central and western regions on the difficulties faced by small and micro-sized enterprises.
The MIIT report says that according to its investigation, the financial problems faced by small and micro-sized enterprises include a low proportion of direct financing, insufficient cash flow and high borrowing costs. Moreover, small and micro-sized enterprises are struggling amid an appreciating yuan, rising labor costs and price hikes for resources and energy, not to mention various kinds of taxes and fees.
According to a survey carried out by the National Bureau of Statistics (NBS) among 39,000 industrial enterprises with annual sales volume below 20 million yuan ($3.26 million), only 21.1 percent of small and micro-sized industrial enterprises maintained "good" or "very good" operations in the first quarter, which was 1.7 percentage points lower than the figure at the end of last year. Particularly, among the micro-sized enterprises, only 18.3 percent had "good" or "very good" operations. Manufacturing and export-oriented enterprises in Guangdong and Zhejiang provinces and Chongqing Municipality saw their orders reduce by 20-30 percent.
The NBS investigation report says on addressing the difficulties, 57.14 percent of small and micro-sized enterprises think the government should help them obtain more credit, reduce logistics fees, cut or exempt taxes, help them improve management, adopt policies to attract professionals, and promote consumption.