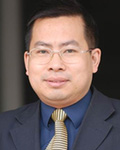 Ruan Zongze

In a seminar organized by Tsinghua University's Institute of Modern International Relations in Beijing on April 12, Ruan Zongze, Vice President of China Institute of International Studies (CIIS), claimed that the United States' strategy of returning to the Asia-Pacific region threatens to cause certain losses for its own strategic interests.

Ruan said that although the U.S. "pivot to Asia" has helped the superpower further strengthen its military presence in the East Asian region – including new military bases that essentially station troops in the Philippines and improved military deployment in the region – the strategy has aroused concern and dissatisfaction in some countries.

Ruan noted that the U.S. policy first upsets its EU allies. They claim the United States may neglect Europe while paying excessive attention to East Asia. The strategy also appears to suggest that the European era has passed and the future belongs to Asia, which European countries would prefer not to see.

Second, the nations of Association of Southeast Asian Nations (ASEAN) have ambivalence over the U.S. returning to the area. Some countries are scheming to provoke China over South China Sea disputes and take advantage of the U.S. presence in the region, but most ASEAN countries are more concerned with deepening doubts among big powers brought by the U.S. move. The U.S. strategic shift has already caused internal differences within ASEAN.

Third, the U.S. move surely has no positive benefits for the mutual trust between Beijing and Washington. As the United States has no ability to contain China, it may instead be seeking to put up barriers to China's development.

However, Ruan claimed that the U.S. "pivot" to the Asia-Pacific would present a variety of challenges at a time when it is dealing with other problems such as the Iranian nuclear crisis.

"The U.S. is a global power; it is impossible for Washington to stay out of the affairs of other world hotspots," Ruan said, adding that the Iran nuclear issue "will no doubt take up much of Washington's energy."