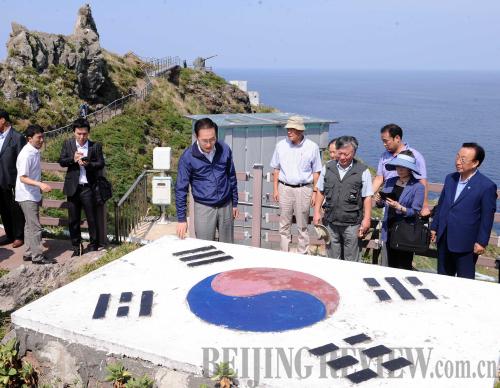 SOUTH KOREA'S MARK: South Korean President Lee Myung Bak (second left) visits Dokdo on August 10 (CFP)
Future of territorial feuds
Japan has recently decided to replace its ambassadors to China, South Korea and the United States. Observers believe this is a sign of the Noda administration's changing foreign policy. On August 22, Noda asserted that he had nothing to do with the new appointment, and the decision was made entirely by the Japanese Ministry of Foreign Affairs. The statement suggests Noda is losing control over some areas of the government, revealing an internal instability in the Noda administration.
Zhao pointed out that frequent replacements of prime ministers make it difficult for Japan's domestic and diplomatic policies to be coherent. The recent replacement of ambassadors is the corollary of Japan's unstable political situation. He said although the decision doesn't necessarily mean Japan will take a tougher stance on territorial disputes, it does reflect Noda's determination to adjust the country's diplomatic policy.
Current Japanese Ambassador to China Uichiro Niwa's successor, Shinichi Nishimiya, is very close with the United States, showing the Noda administration's consideration of the Untied States. "Whoever the next ambassador to China is will not completely change the current situation between China and Japan. There are difficulties, but there is also hope," Zhao said.
Zhou agreed that the transfer of diplomats is related to recent territorial disturbances. He said the Japanese Government is trying to achieve a diplomatic breakthrough by rotating personnel. Niwa publicly opposed Tokyo Governor Shintaro Ishihara's plan of "purchasing" the Diaoyu Islands in April because it would jeopardize China-Japan relations. Zhou said as Noda declared plans to "nationalize" the Diaoyu Islands, ambassadors like Niwa are now treated as obstacles to the "nationalization" plan.
Unlike Zhao, Zhou worried that the ambassador shift hints Japan's China policy will fully fall under the control of Japan's right-wing forces, hardening its stance on the Diaoyu Islands. He warned that Japan, while being practical in diplomatic relations, could adopt a fierce orientation through the media, public diplomacy, military exercises, the enlargement of weaponry and the expansion of its armed forces to fight for territory.
Nevertheless, Zhou suggested China should stay calm on the Diaoyu Islands issue. He said even though Japan controls the islands, no state-level leader has set foot on the islands. "We should be patient in dealing with Japan and the United States," he said, adding that a military solution is not a good option. But he also worried that both sides are very emotional about the issue now, which is detrimental to the China-Japan relationship and the whole Northeast Asian situation. Territorial games such as this are a constant danger—for the involved countries, and for the region as a whole.