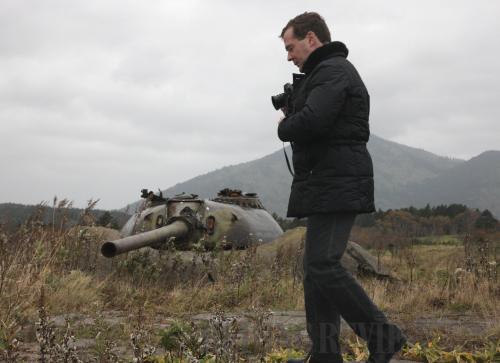 MEDVEDEV ON DISPUTED ISLAND: Then Russian President Dmitry Medvedev visits an island in the Southern Kuril Islands on November 1, 2010, the first visit by a sitting Russian president to the disputed islands between Russia and Japan (CFP)
He explained that Japan has sped up the pace of exploring ocean resources in recent years, especially after Yoshihiko Noda became prime minister last August. Noda recently stressed that Japan's top strategy for reviving the country should be ocean exploitation in a speech at Waseda University. He said Japan owns an exploitable ocean area 12 times that of its land territory. Noda pointed out that the ocean area under Japanese control is the sixth biggest in the world, while the area of deep sea at a depth of 5,000 meters under Japan's jurisdiction is the largest worldwide. Zhao concluded that given Japan's decision to focus on ocean resource exploitation, it will naturally maintain a tough stance on disputed islands.
Zhou Yongsheng, a professor with China Foreign Affairs University, believed that all the territorial disputes in Northeast Asia had connections with domestic situations in the related countries. For example, he said, Lee's stepping on Dokdo on August 10 happened because of domestic pressure prior to the upcoming presidential election. In July, Japan declared territorial claims on Dokdo in a defense whitepaper, triggering strong protest from South Korea. Previously, Lee had maintained a close relationship with Japan, said Zhou, which put the South Korean leader in an awkward position. Zhou pointed out that Lee tried to get political support and votes by taking a tough attitude to prove he is a patriotic president who will strongly protect territorial sovereignty.
On the Japanese side, Noda also has the task of winning support in the coming elections. As Zhou explained, since Noda and his Democratic Party of Japan are comparatively weak when dealing with domestic situations, especially in the country's economic recovery, he has to show strength in the diplomatic field to display his administration's achievement. "The inevitable outcome is Japan turning its neighbors into enemies," said Zhou.
Observers have said that U.S. influence is another important reason behind the current situation in Northeast Asia, as Tokyo is Washington's military ally in East Asia.
Zhou said as it shifts its focus to the Asia-Pacific region, the United States encouraged Japan to conduct a strategy of fierce confrontation with China, which indirectly led to the escalation of territorial disputes in the area. He explained that the U.S. Asia-Pacific policy also created similar effects in Southeast Asia, bringing out conflicts between China and the Philippines.
However, Zhou said, Washington does not want to see armed conflicts break out, forcing the United States to choose sides, which doesn't meet its interests.
Zhao agreed that the United States is an influential party behind these disputes. He stressed that Washington encouraged Japan to take a tough stance on the issues, and then used the ensuing squabbles in the region as an excuse to increase its presence in Asia. However, he believed Washington will not put Japan's state interests above its own, and will therefore not act as Japan's ally over these disputes. Zhao also noted that there's a strong sentiment in Japan calling on the Japanese Government to stop the current diplomatic strategy of fully relying on the United States.