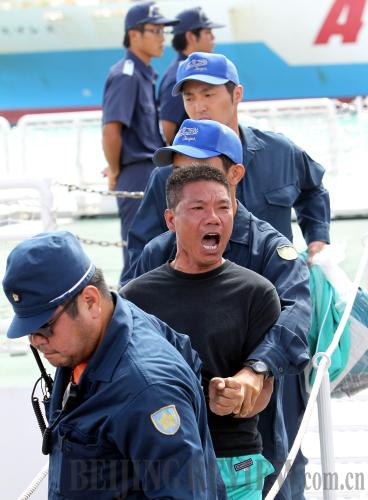 ILLEGAL DETENTION: Japan's Okinawa prefectural police escort an activist on August 16, one day after a group of Chinese demonstrators were arrested for protesting on the Diaoyu Islands (CFP)
Japan has recently dug itself into the center of territorial rows with its neighbors in Northeast Asia. It is embroiled in island disputes with Russia and South Korea. In addition, the dispute over the Diaoyu Islands between China and Japan has emerged as a focal point of contention.
Chinese observers pointed to Japan's economic interests, U.S. influence and politicians' personal ambitions as the root of the renewed territorial disputes. Some warned that Japan could take a very tough stance on these issues, adding that its neighbors should be prepared to deal with a difficult diplomatic situation.
Causes of contention
Conflicting interests always form the core of international disputes. Territorial disputes are often seen as the concentration of complicated interests between different parties.
The most recent round of contention ramped up in July. Russian Prime Minister Dmitry Medvedev landed on the Southern Kuril Islands, known in Japan as Northern Territories, on July 3, drawing strong condemnation from Japan. South Korean President Lee Myung Bak's landing on Dokdo, which the Japanese call Takeshima, on August 10 led to Japan's threat to take the dispute to the International Court of Justice.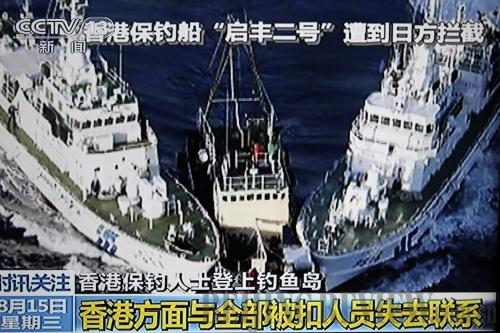 INTERCEPTION AT SEA: Two Japan Coast Guard ships try to intercept a Hong Kong fishing vessel with 14 activists on board near the Diaoyu Islands on August 15 (CFP)
Seven Chinese activists soon thereafter were illegally detained by Japanese authorities for landing on the Diaoyu Islands on August 15, a day marking Japan's surrender in World War II. Then, a total of 150 Japanese lawmakers and members of right-wing groups went to the waters surrounding the Diaoyu Islands to mourn soldiers who died in World War II, and 10 of them set foot on the Diaoyu Islands on August 19. These successive events have rapidly heightened tensions in Northeast Asia.
Outsiders may ask why Japan has suddenly run into so many territorial disputes with its neighbors.
"While the disputes have different historical backgrounds, the Japanese Government's recent ocean exploration strategy is a prime reason for escalating tensions between Japan and its neighbors," said Zhao Xinli, a scholar on Japanese studies with the Communication University of China, to Beijing Review.