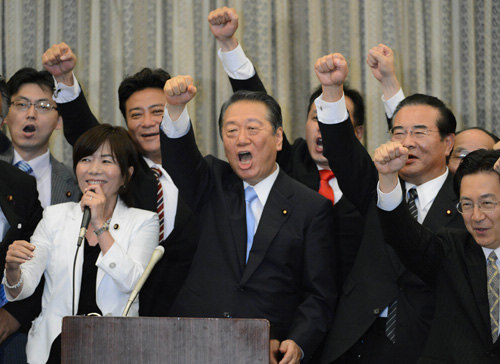 NEW PARTY: Japanese political kingmaker Ichiro Ozawa (center) and parliament members raise their arms as they shout slogans at their party's first convention in Tokyo on July 11. Ozawa launched the People's Life First Party along with some 50 other ruling party defectors that day (XINHUA/AFP)
Japan's domino effect began with a political earthquake in July when the ruling Democratic Party of Japan (DPJ) split and was exacerbated when Japanese Prime Minister Yoshihiko Noda declared the plan of "nationalizing" the Diaoyu Islands, spreading domestic political disputes to the diplomatic field.
Political analysts pointed out that the sluggish economy is the root of Japan's internal instability. The Japanese Government chose to jeopardize its friendly relationship with China by showing an iron fist in order to gain public support in the upcoming elections. Experts warn that such a radical tactic will not solve Japan's economic problem, but will instead add to uncertainties in Japan's political situation. However, both China and Japan should stay calm when dealing with territorial disputes.
Sandwiched administration
Japan's recent political drama has been eye-catching. On June 26, the DPJ and the opposition Liberal Democratic Party (LDP) jointly passed a law raising the sales tax at the lower house of the parliament. It became the last straw that split the DPJ. Fiftyseven DPJ parliament members, including influential DPJ leader Ichiro Ozawa and former Prime Minister Yukio Hatoyama, strongly opposed the law. Ozawa submitted his resignation on July 9 along with 49 other lawmakers of the ruling party in a move to oppose the tax hike bill, and was thereby expelled by the DPJ. On July 11, Ozawa announced that he organized a new party named People's Life First.
Economic woes are stirring up political instability, said Chinese observers. Hu Jiping, Director of the Institute of Japanese Studies at the China Institutes of Contemporary International Relations (CICIR), said to Beijing Review that aside from the devastating earthquake in March last year and the global financial crisis, Japan's economy has been distressed for a long time. "The economic problem is so big that it's difficult to deal with for any party and any prime minister," Hu said.
Li Wei, Director of the Institute of Japanese Studies at the Chinese Academy of Social Sciences (CASS), said that encouraging domestic consumption and increasing employment are Japan's targets for now.
Compared with other developed countries, the Japanese economy is in slow recovery this year. The Japanese Government said that Japan's GDP grew 1 percent in the first quarter, or an annualized rate of 4.1 percent for 2012. The GDP growth was driven by strong domestic demand, particularly from government expenditures.
Jin Baisong, a researcher with the Chinese Academy of International Trade and Economic Cooperation, believed that the post-quake reconstruction is a big reason for hiking government expenditures and growing GDP. But Japan's economic situation has a poor outlook partly due to the influence of Europe's sovereign debt crisis.