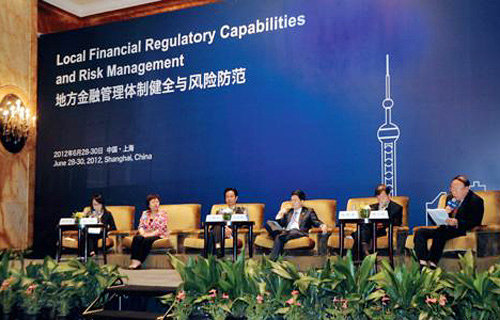 FINANCIAL DEBATE: The Lujiazui Forum 2012, with Reforming Global Financial Governance for Real Economic Growth being its theme, is held in Shanghai on June 28-30 (PEI XIN)
Debt problems at China's local level have been prevalent for years. With increasing concerns over local government debt risks, calls are becoming stronger to reform tax policies and regulations. Researchers and bankers spoke out about the issue at the three-day Lujiazui Forum which opened in Shanghai on June 28. Edited excerpts follow:
Controllable risks
Jia Kang, Director of the Research Institute of Fiscal Science at the Ministry of Finance: Two ratios in the Maastricht Treaty, also called the Treaty on the European Union, namely the government debt-to-GDP ratio of 60 percent and deficit-to-GDP ratio of 3 percent, have been used globally to determine the safety of government debt. Government debt is considered at a safe level if it is below the two internationally recognized "warning lines"—or at a dangerous level if it exceeds the lines. As we all know, the treaty did not work as well as expected in Europe. Almost all EU member states are plagued by a public sector debt-to-GDP ratio higher than 60 percent.
China's government debt-to-GDP ratio and deficit-to-GDP ratio are both relatively low according to the warning lines. Its local government debt amounted to 10.7 trillion yuan ($1.7 trillion) at the end of 2010, accounting for about 27 percent of its GDP. Since its public sector debt as a percentage of GDP reached about 20 percent in nominal terms, China's government debt totaled close to 50 percent of GDP, and was well within the safety zone, even if bonds issued by policy financial institutions were taken into account.
Its seemingly huge local debt won't pose direct threat to China's financial fitness and cause an overall crisis. But we should see that risks are accumulating and cannot be ignored. Risks in some projects are quite high because of a lack of public supervision and transparency.
Qian Wenhui, Executive Vice President of Bank of Communications: Local governments have many resources at hand, such as land rights and shareholding in many large state-owned enterprises. Unlike their European counterparts, China's local governments can mobilize resources with relative ease to help repay their loans.
In absence of direct financing channels, selling land remains the most important source of local governments' revenue, but the ongoing national administrative and monetary clamp on real estate development and speculative property trading is having a chilling effect on their fiscal conditions.
Without land sales, the financing platforms won't be able to sustain themselves.
If the GDP growth rate drops below 7.5 percent, the consequences would be far graver than the impacts of several platform companies defaulting on their bank loans.
Wu Jiang, Deputy Director of China Development Bank's Business Development Department: We are confident in the future of government financing platforms. The reason for the optimism lies in the great potential of the country's urbanization prospects. It would take another two or three decades for China's urbanization rate to reach 80 percent, up from the current 50 percent. The demand for capital remains huge.
In addition, the government debt is mainly used to stimulate infrastructure projects and is thus fundamentally different from those in Europe that were driven by excessive consumption.