The most recent negotiations on the Iranian nuclear issue ended without agreement on January 22 in Istanbul. Iran was on one side of the negotiating table, while the five permanent UN Security Council members—the United States, Britain, France, China and Russia—and Germany were on the other.
After the negotiations, both sides stated their stances. Catherine Ashton, the EU High Representative for Foreign Affairs and Security Policy, said the six countries initially thought they would have thorough and constructive negotiations in Istanbul, but Iran was obviously not prepared to enter discussions unless the other countries accepted its preconditions. She described the situation as disappointing. On the other side, Iran's chief negotiator Saeed Jalili said Western representatives were attempting to impose orders on Iran, rather than conducting dialogue with the country.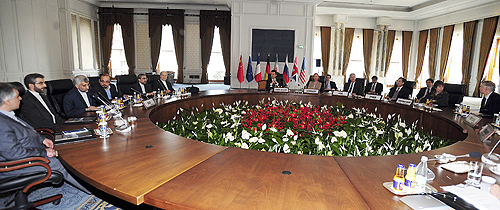 NUCLEAR NEGOTIATIONS: Representatives from the EU, the United States, Britain, France, China, Russia, Germany and Iran hold negotiations on January 22 in Istanbul, Turkey (XINHUA/REUTERS) 
U.S. and European negotiators urged Iran to prove it had peaceful intentions for its nuclear plan in accordance with the Nuclear Non-proliferation Treaty.
In recent negotiations, Iran was prompted to undertake confidence-boosting measures, such as strengthening the international monitoring of the country's nuclear activities. But Iran insisted other nations respect Iran's right to produce enriched uranium for peaceful purposes, and demand they remove sanctions against Iran. Ashton said she had urged bilateral contact between Iran and the United States, but that Iran refused.
Low expectations
To most observers, the results of the Istanbul negotiations were expected. Before negotiations even began, the United States and Russia said they were not counting on any sort of breakthrough.
It is understood that Iran and the United States are on opposite sides of the nuclear issue, and the Istanbul negotiations actually were a competition between Washington and Tehran. Prior to the talks, each side overvalued the hand it was holding and believed the other nation would give in. Despite their determination, both sides were wrong.
U.S. President Barack Obama's administration has been using carrot-and-stick policies on Iran. Last June, the United States pushed the UN Security Council to pass Resolution 1929, sanctioning Iran. Then, Washington united its allies to add unilateral sanctions against Tehran. It is believed that these actions hurt Iran badly.
At the beginning of 2011, the United States launched new sanctions against Iran, adding 20 more Iranian companies to the blacklist. When U.S. Secretary of State Hillary Clinton visited Gulf countries, she also called for further sanctions. And when the United States returned to the negotiating table, it was not due to sincerity, but was simply a symbolic gesture as part of its carrot-and-stick strategy.
Iran's rise
Although Iran is generally weaker, its self-confidence is stronger than ever, and that makes the nation a serious challenger of the United States.
After halting uranium enrichment in 2003, Iran resumed the process two years later, with more advanced technology and greater capabilities. The country now has more than 5,000 centrifuges and 3.5 tons of 3.5-percent enriched uranium. In addition, an International Atomic Energy Agency report said Iran is now capable of producing 20-percent enriched uranium.
Iran currently has much more bargaining power than eight years ago, so it makes sense that the country is making greater demands than it did in 2003. As former U.S. National Security Advisor Zbigniew Brzezinski said, Washington must be more realistic about the Iranian nuclear issue, as the clock will not run backward. Now that the Iranians have obtained the ability to enrich uranium, he said, they will not abandon it.
Iran may have more geopolitical clout and Western media have pointed out that this is why Iran refused to make any compromises in the recent negotiations.
In Iraq, Nouri al-Maliki, a pro-Iran Shiite, defeated the Saudi Arabia-backed Sunni bloc and formed a new cabinet last December. In Lebanon, pro-Iran Hezbollah successfully broke down the U.S.-supported Saad Hariri administration in January. The political balance in the Middle East is now leaning in Iran's favor.