Massive profits lure companies to further expand their construction projects. This expansion brings debt and that debt is passed onto passengers. The entire sector is locked into this system.
The total debt of these highway companies amounted to 124.79 billion yuan ($19.78 billion) in the first half of 2012, up 18.48 percent from the previous year, according to Wind Info.
In June 2011, the Yunnan Provincial Road Development Investment Co. Ltd. broke its contract with a bank because it failed to pay back its debt and interest payments on time. Although the problem was eventually resolved, liability plagues the highway industry and rating agencies have lowered the credit ratings of road construction businesses.
"Some highway companies have a very high asset-liability ratio," said Zhang Xiaode, a professor at the Chinese Academy of Governance. "Most highway companies have a government-backed financing platform. If credit policies are tightened and the income of highway companies shrinks, the whole industry chain could break, leading to a government debt crisis."
The asset-liability ratio of Henan Zhongyuan Expressway Co. Ltd. and Guangxi Wuzhou Communications Co. Ltd. was as high as 79.07 percent and 71.02 percent, respectively. The liability ratio of Hubei Chutian Expressway Co. Ltd. was 68.53 percent.
"The whole highway industry is now cash-strained," said Guo of Hubei Chutian Expressway.
Unlisted highway companies face an even more severe situation. The liability ratio in transportation investment companies in six provinces has exceeded 70 percent, according to a report from Dongxing Securities at the end of 2011.
To charge or not to charge—that's the big road question, which requires long-term negotiation among the Central Government, local governments and highway companies.
Toll charges may even account for an astounding 15 percent of China's GDP and are a major engine for local GDP growth, said Zhao Haijun, an independent researcher.
In response to the outcry over high toll fees, five ministries, including the National Development and Reform Commission and the Ministry of Transport, launched a one-year campaign against irregular toll charges in June last year, including confronting companies that had already paid off their debts.
From a major crackdown on over charging to a free pass on holidays, it may be no surprise where the Central Government is headed with road tolls.
"Judging from ongoing highway reform, road tolls will eventually be lifted nationwide," said Zhang. "Maintenance fees should be earmarked by central and local governments."
Some argue that scrapping toll fees nationwide is not a realistic or feasible move.
Listed highway companies belong to shareholders. How can the country decide to scrap all or some toll charges? Toll fees cannot simply be removed. Besides, highway construction needs a large amount of capital and securing investment is a lengthy process, which is why so little private capital has been injected into the sector, an industry insider told the China Economic Weekly.
After the crackdown, 12 of the 19 listed highway companies saw profits fall, according to the China Economic Weekly.
"We've already reported results of last year's crackdown to industry supervisors," said Guo of Hubei Chutian Expressway. "We don't know what the government is going to do next, so the future of highway toll charges is still unclear."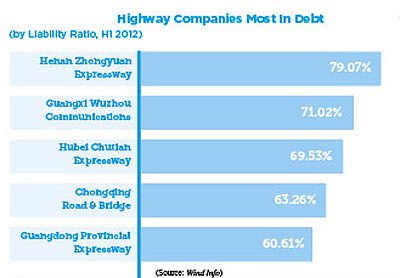 Email us at: zhouxiaoyan@bjreview.com