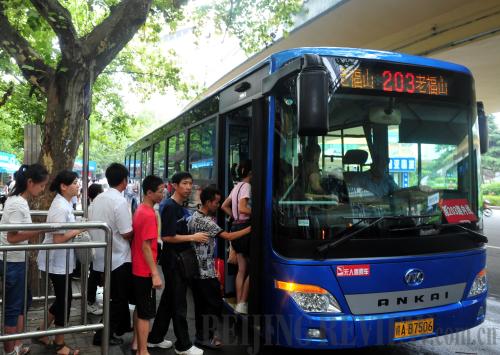 GREEN TRANSPORTATION: Residents get on a new-energy bus in Nanchang, capital of central China's Jiangxi Province on July 18, 2011 (ZHOU KE)
As far as nominal GDP is concerned, Nanchang, capital of central China's Jiangxi Province, can only be listed among the middle and low-ranking second-tier Chinese cities. However, based on its own realistic conditions, the city has followed a unique way to develop.
"As a relatively underdeveloped city, if Nanchang tries to follow the development models of developed cities, it would be very hard for it to catch up with the others," said Liu Hua, chief economic planner with the Nanchang Municipal Commission of Development and Reform, the local economic planner. "Nanchang has a good ecological base. The key point is to make full use of this advantage to achieve rapid development in a green way."
Adjoining Poyang Lake, China's largest freshwater lake, and with a green coverage rate of 42 percent, Nanchang has a sound ecosystem. On this basis, the city has formed a low-carbon development strategy on every level from industrial development to agricultural production, from municipal construction to the lifestyle of residents.
According to a low-carbon development roadmap Nanchang released at the end of 2011, the city will invest 81.7 billion yuan ($12.88 billion) in 52 key projects in the next several years, including eight photovoltaic projects, four LED projects, nine cultural tourism projects, three outsourcing projects and two transportation projects.
"Low-carbon development is a worldwide trend, and Nanchang is at the same starting line with other Chinese cities in this regard. Therefore, it is very possible for Nanchang to leap ahead," Liu said.
Green industries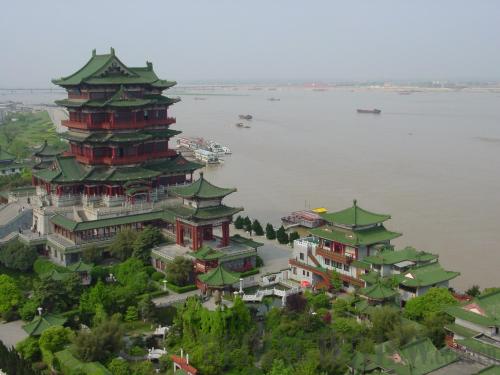 MAGNIFICENT: Tengwang Ge (Pavilion of Prince Teng), the most renowned ancient structure in Nanchang, capital of central China's Jiangxi Province, was first built in 653 and rebuilt in 1989 (CFP)
Although the Poyang Lake Ecological Economic Zone Plan, an ecological development scheme of cities around Poyang Lake, was finally approved by the Chinese Central Government in 2009, Nanchang actually started its industrial transformation and restructuring in 2002.
"In the last decade, Nanchang has invested more than 2 billion yuan ($315.37 million) in industrial transformation and restructuring. Now you cannot find any signs of those old industries such as big chimneys in the city," said Liu Li, a spokesman for the Nanchang Municipal Government.
Based on a comprehensive scheme, all of the 40 large and medium-sized enterprises in downtown Nanchang were relocated to suburban industrial parks while dozens of other polluting companies were renovated or shut down in the past decade. These efforts contributed greatly to improved air quality in Nanchang. In recent years, its yearly ratio of days with good air quality has exceeded 94 percent.
The original industrial base of Nanchang was relatively weak, but in the eyes of local officials it puts the city at an advantage to develop low-carbon industries.
"As Nanchang doesn't have many high-polluting and high energy-consuming industries, it is much easier for the city to pursue the development of emerging green industries such as solar energy, green lighting, aviation, outsourcing, information technology, biopharmaceutical manufacturing and new-energy vehicles," said Zeng Guanghui, Director of Publicity Department of the Nanchang Municipal Committee of the Communist Party of China (CPC).
To seek high-speed economic development, most Chinese cities have spared no efforts to attract investment in recent years. However, enterprises from high-polluting and high energy-consuming industries are not allowed in Nanchang even as it seeks faster economic development. "No matter how much of a contribution those enterprises might make to the economic development of Nanchang, the city will close the door to them," Zeng said.