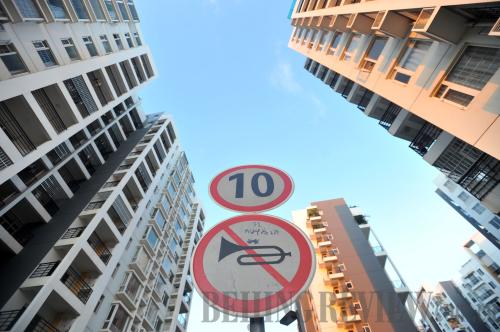 SUMMER HEAT: Residential buildings in Nanning, capital of southwest China's Guangxi Zhuang Autonomous Region. Signs of a warming property market have been felt since June (LU BO'AN)
One year after deciding to buy an apartment, Wang Jian, a 25-year-old website editor in Beijing, finally sealed the purchasing deal this June. Her two-bed room 95-square-meter apartment in the suburbs of Beijing set her back 1.6 million yuan ($253,968).
"I didn't notice any decrease in price in the past year. Since June the price has been picking up, so I decided to buy quickly," said Wang.
The same month Wang bought her apartment, Beijing saw home sales rise to 25,602 units, 10.5 percent more than May and 50.6 percent more than June 2011, according to the municipal commission of housing and urban-rural development.
The property market rebound at the beginning of this summer was not unique to Beijing. According to data released by the China Index Academy (CIA), the average home price in 100 major cities edged up 0.05 percent in June from a month ago, ending a nine-month decline.
The Central Government has shown no signs of letting up on its national campaign to control the housing market. During an inspection tour to the city of Changzhou in east China's Jiangsu Province on July 7, Premier Wen Jiabao said the government would implement real estate market regulations to curb speculation.
"The government should make curbing speculative purchases a long-term policy and unswervingly carry on control measures over the sector, so as to make home prices return to reasonable levels and avoid price rebounds," Wen said.
Upward pressure
But while the Central Government seems bent on controlling prices, administrative bodies at the local level are taking a different stance. Dependent on leasing their lands to pay off exorbitant debt, cash-strapped local governments are looking for loopholes and any means necessary to raise money, even if it means circumventing or flat-out ignoring national policy.
Local governments have been increasingly dependent on land-use fees for revenue. According to National Economic News, land sales formed more than 30 percent of the revenue base in 2011 in five big cities, including Beijing, Shanghai, Suzhou, Tianjin and Chongqing.
Driven by the government-induced spending spree to stimulate the economy following the global financial crisis in 2008, local governments borrowed heaping sums of money to facilitate investment in infrastructure projects. According to the National Audit Office, local governments owed 10.7 trillion yuan ($1.7 trillion) at the end of 2010, and 53 percent of that must be paid back before the end of 2012.
Pinning their hopes on selling land to relieve their debt worries, local governments were groaning under the weight of non-performing loans and a decline in land leasing revenue. Nearly 900 land auctions failed in 2011, about three times more than in 2010, according to Centaline Group, a Hong Kong-based property agency.
Most Chinese cities will not be able to rid their dependence on land sales for revenue in the short term, said Zhang Dawei, Director of the Market Research Department with Beijing Centaline Property Co. Ltd.
Local governments are the largest stakeholder in the land-use market. To secure their income, they are likely to use policy to stop house prices from falling, said Zou Xiaoyun, assistant chief engineer of the China Land Surveying and Planning Institute.
Driven by the urge to revitalize the sluggish housing market and relieve debt woes, local governments have been making efforts to challenge the tightening measures released by the Central Government.
On June 24, central China's Henan Province adjusted its certification method for first-time homebuyers to boost demand. First-time homebuyers enjoy a mortgage interest rate discount of as much as 30 percent of the benchmark interest rate.
The new policy stipulates that homebuyers who do not have property registered under their names would be identified as first-time buyers whether a buyer used bank loans to buy houses before.
Although the 30-percent discount is confirmed for the first time in a government document, it has already been practiced by the banks for a long time, said Hu Jinghui, Deputy General Manager of 5i5j, a Beijing-based real estate agency.
Other cities have also tried to loosen restrictions or find loopholes in central government policies.