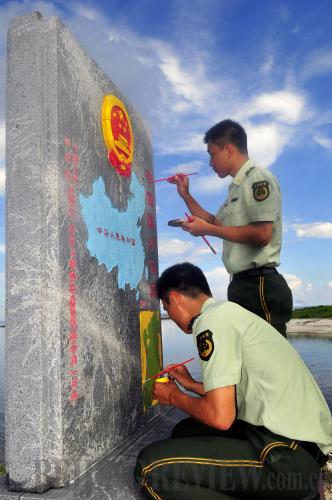 GUARDING THE ISLANDS: Border guards stationed on the Xisha Islands clean up a boundary monument on August 24, 2009 (CFP)
Zhao said that Sansha will develop four types of fisheries, including marine fishing industry. He said that fishing grounds in the area can sustain a maximum catch of more than 2 million tons, whereas the current annual catch of Hainan Province is only around 80,000 tons, which promises big development potential. In addition, Sansha will develop deep-water net cage aquaculture, seedling industry and marine product processing industry.
"Each of the four fishery industries is very attractive to investors," Zhao said.
Rough waters ahead
Setting up Sansha City is a real political, economic, social and defense maneuver.
Gong Shaopeng, a professor of international relations at China Foreign Affairs University, said that a lot of work needs to be done to set up a new city, such as setting up local government organizations, and holding elections for local legislative and political advisory bodies.
And it will take a significant amount of time for Sansha to build its infrastructure, medical care and education systems, Gong said.
Yongxing Island, the seat of Sansha Municipal Government, has relatively good infrastructure such as a dock, airport, hospital, bank and post office. Yet infrastructure is still quite poor on other islands inhabited by fishermen, where there is no adequate supply of fresh water and electricity for daily use.
Currently, a pressing issue for Sansha is to improve access to the city, Li said. He suggested that Hainan Province should use the resources of Hainan Airlines to open normal flights to Sansha, and connect Yongxing Island to Hainan Island with regular marine passenger shipping and cargo shipping services and high-speed hovercraft.
While gearing for economic development, Sansha should avoid investment overheating and over-development, Li said.
"Sansha should have an overall plan that balances resource exploitation with environment protection," he said.
Li said that the city should put environment protection at priority because the islands there are mostly formed by coral reefs, whose ecosystem is very fragile.
"If we overexploit the resources and do not protect the ecosystem properly, the consequence can be disastrous. So we must plan ahead and put protection at priority," said Li.