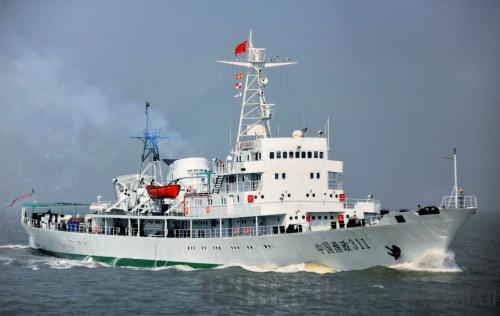 FISHERY ADMINISTRATION: China Fishery Administration Ship No. 311, the largest of its kind, departs from a port in Guangzhou, capital of Guangdong Province, for the Xisha Islands on March 10, 2009 (CFP)
The South China Sea has huge oil and natural gas reserves. Data from the Ministry of Land and Resources show that the area has more than 200 oil-gas-bearing structures and 180 oil-gas fields; it has potential oil reserves of 55 billion tons and gas reserves of 20 trillion cubic meters.
Li said that Sansha can attract companies to develop oil and natural resources, and foreign companies can do so by forming joint ventures with their Chinese partners.
Technological breakthroughs in offshore drilling platforms and the new success of the Jiaolong submersible have demonstrated China's strength as a maritime power and its capacity to carry out offshore and deep water exploration and extracting.
Tourism is also a focus of Sansha, said Li. In 2009, the State Council mentioned developing tourism in Xisha in its plan to build Hainan into an international tourism island.
On June 25, the Hainan Provincial Bureau of Cultural Relics designated four reefs in the Xisha Islands as cultural heritage protection areas including the Beijiao Reef, the Huaguang Reef, the Yuzhuo Reef and the Yongle Reef. In cooperation with the Ministry of Public Security, the bureau will construct offshore monitoring platform and conduct routine law enforcement inspections to protect offshore cultural relics.
Moreover, Hainan has already set up six marine ecological reserves in the area since 1980. The area may soon become a hot tourist destination. "I am very optimistic about Sansha's tourism prospect," Li said.
Rich in fishery resources, the South China Sea has been a traditional fishing ground of Chinese fishermen. The establishment of Sansha marks a milestone in the development of Hainan's marine economy, said Zhao Zhongshe, Director of the Department of Ocean and Fisheries of Hainan Province at an interview on June 24.
Zhao said that Sansha will develop four types of fisheries, including marine fishing industry. He said that fishing grounds in the area can sustain a maximum catch of more than 2 million tons, whereas the current annual catch of Hainan Province is only around 80,000 tons, which promises big development potential. In addition, Sansha will develop deep-water net cage aquaculture, seedling industry and marine product processing industry.
"Each of the four fishery industries is very attractive to investors," Zhao said.
Rough waters ahead
Setting up Sansha City is a real political, economic, social and defense maneuver.
Gong Shaopeng, a professor of international relations at China Foreign Affairs University, said that a lot of work needs to be done to set up a new city, such as setting up local government organizations, and holding elections for local legislative and political advisory bodies.
And it will take a significant amount of time for Sansha to build its infrastructure, medical care and education systems, Gong said.