| | |
| --- | --- |
| | |
| 100 Years of the Aircraft Carrier (BJD.COM.CN) | Sailing to the Deep Blue (BJD.COM.CN) |
China's first aircraft carrier, the Varyag, has just completed its seventh sea trial and went back to Dalian Port in northeast China's Liaoning Province on June 1. The aircraft carrier, with a displacement of 58,500 metric tons, was originally built by the former Soviet Union. After the Soviet Union disintegrated in 1991, Ukraine, owner of the unfinished vessel, disarmed the ship and removed its engines before selling it to China. Now, the vessel has been totally refitted for its new role as a research and training platform for the Chinese military.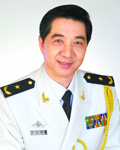 Zhang Zhaozhong (BJD.COM.CN)
For most people, aircraft carriers seem secret and inaccessible. But for Zhang Zhaozhong, a military expert with National Defense University, that was not the case, as he has been researching them for nearly three decades.
It was in 1984 when Zhang first boarded a retired Australian aircraft carrier. After several months of on-site exploration, he perceived what an aircraft carrier really was. Since then, Zhang's comprehensive study of the world's aircraft carriers has gone public in the form of a large number of research reports and papers.
In 1994 and 1996, Zhang attended roundtable conferences in Geneva, Switzerland and Italy as a representative of China to discuss the international maritime and naval law. Those fields were new to China then, and Zhang started from scratch. His research on international rules and conventions initially produced Introduction to the Law of Naval Warfare.
Since August 2011, when the refitted vessel set out on its maiden sea trial, it triggered discussions on the aircraft carrier. What is an aircraft carrier? Why is it necessary to develop one? What kind of aircraft carrier do China need and how is it related to the comprehensive national strength and military combat effectiveness?
Zhang's latest books 100 Years of the Aircraft Carrier and Sailing to the Deep Blue in Chinese, both published by Guangdong Economy Publishing House, provide answers to these common questions.
100 Years of the Aircraft Carrier vividly recalls the development process of aircraft carriers worldwide. By analyzing the different strategies of carrier-operating nations such as the United States, the United Kingdom, Japan, Russia and India, he points out tips worth learning for China.
Sailing to the Deep Blue presents how those strong naval powers developed. It defines disputes of sea sovereignty, rights and interests, and gives basic principles to solve those disputes. He also analyzes why it's necessary to develop the naval power of a country.
Zhang spared no efforts in writing the books in a way that would make his words, based on a solid theoretical foundation, fully understandable to readers with little background in maritime and naval issues.
Zhang has served the Chinese Navy for 40 years, justifying the tone he set up for his life when he first got on the Australian aircraft carrier, which is "to devote himself to studying aircraft carriers and help China have her own aircraft carrier."
(Source: Beijing Evening News)