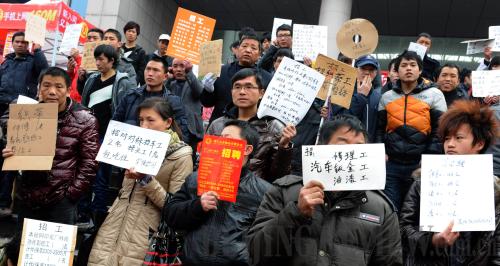 LABOR SHORTFALL: Recruiters of many small and medium-sized enterprises wait for job hunters at a job fair in Yiwu, east China's Zhejiang Province. Labor shortage has become an acute concern for small businesses in the country (HAN CHUANHAO)
But Cao Fengqi, Director of the Finance and Securities Research Center at Peking University, said China will face long-term inflation pressures due to land and labor cost inflation. "In addition, a short-term factor pushing up CPI is rapid increase in international crude oil prices," he said.
In line with international market development, the National Development and Reform Commission in March raised the retail gasoline and diesel prices by 600 yuan ($95) per ton, the second hike this year.
Though fuel only takes a small weight in the CPI basket, the pass-on effect may filter through consumer prices by forcing up logistics costs.
Zhao Xijun, Deputy Director of the Financial and Securities Institute at the Renmin University of China, said the ripple effect will soon be felt when squeezed enterprises begin to pass the increased logistics costs onto consumers.
Zhao also struck a note of caution about possible risks of imported inflation, adding that the biggest uncertainty lies in oil prices if the situation in the Middle East worsens.
Zhao Qingming, a finance professor of the University of International Business and Economics, raised worries about falling PPI. "The PPI declines reflect fragility of the real economy as many domestic enterprises, especially smaller ones, leave their machines idle."