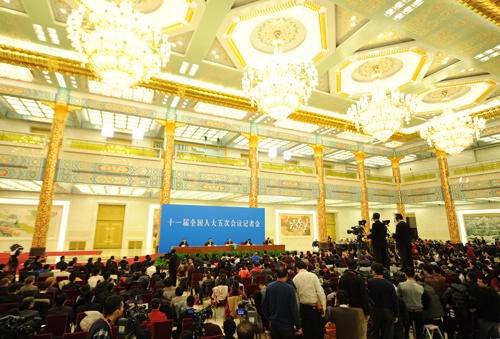 MEDIA EVENT: More than 500 journalists attend Foreign Minister Yang Jiechi's press conference (XIE HUANCHI)
We have noted that the presidential election of Russia was smoothly held on March 4. President Hu Jintao has sent a message of congratulations to newly elected President Vladimir Putin. We wish the people of the Russian Federation even greater achievements in their cause of national prosperity and revitalization.
The Chinese Government is prepared to work closely with the Russian side to deepen the comprehensive strategic partnership of coordination between the two countries and enhance their practical cooperation in all fields.
The Sino-Russian relationship this year has "one central task" and "five priorities." The one central task is to fully implement the plan for the development of Sino-Russian relations in the next 10 years. The five priorities are: ensuring the success of high-level contacts and mutual visits; increasing mutual political support; intensifying practical cooperation in fields such as economy, trade, energy, science, technology and infrastructure as well as at the local level; stepping up cultural and people-to-people exchanges; and enhancing cooperation in regional and international affairs.
The Chinese Government places high importance on China's relationship with Japan. We believe the two sides need to continue to enhance mutual political trust in line with the principles enshrined in the four political documents between China and Japan, expand practical cooperation in all fields, improve sentiments between people of the two countries and push forward the development of China-Japan strategic relationship of mutual benefit.
With respect to the sensitive issues between China and Japan, such as the history issue and the issue of Diaoyu Islands, we hope the Japanese side will fully recognize the complexity and sensitivity of issues concerning the political foundation and overall interests of Sino-Japanese relations. The Japanese side should truly take history as a mirror and look forward to the future, and properly handle these sensitive issues in keeping with the overall interests of its relationship with China.
To enhance mutual strategic trust between China and Japan, it is crucial that both sides view each other's development from an objective and strategic perspective, and truly see each other as an opportunity and partner for development.
This year, Premier Wen Jiabao will hold the fifth China-Japan-South Korea trilateral leaders' meeting in China. We believe the parties should enhance the building of the China-Japan-South Korea free trade area and work together to push forward future-oriented, all-dimensional partnership for cooperation.
Although the euro zone has encountered some difficulties, the EU and the European countries have the ability and wisdom to overcome the current difficulties, resolve their debt issue and make new progress. We always have confidence in the EU and the euro zone, and we have supported the EU's efforts in stabilizing the financial situation through our own ways. We will continue to invest in Europe for mutual benefit.