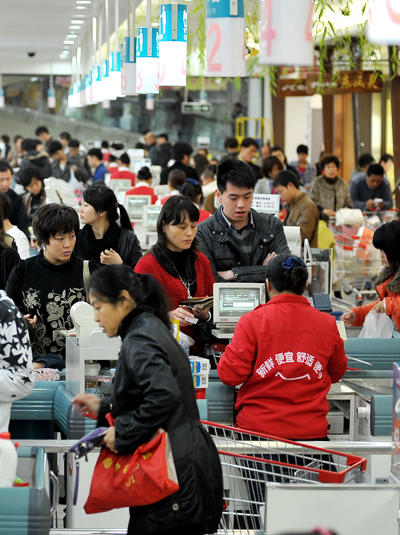 BUYING SPREE: Shoppers are checking out at a supermarket in Haikou, capital of south China's Hainan Province. The province's retail sales of consumer goods grew 18.8 percent in 2011, the fastest in the country (GUO CHENG)
During the Fifth Session of the 11th National People's Congress (March 5-14), Zhang Ping, Chairman of the National Development and Reform Commission; Xie Xuren, Minister of Finance; Chen Deming, Minister of Commerce; and Yin Weimin and Hu Xiaoyi, Minister and Vice Minister of Human Resources and Social Security, answered questions on economic and social issues at separate press conferences. Edited excerpts of their answers follow: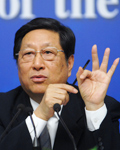 Zhang Ping (WEI YAO)

Zhang Ping: China's economic growth should mainly depend on domestic consumption. There are several ways to boost consumer spending.

First, we should make sure that people have enough money to spend, which means we should raise their spending power and increase their income through measures like creating more jobs, raising purchasing prices of agricultural products, adjusting minimum wage standards and establishing normal mechanisms of wage hike.

Second, we should create an environment where people feel comfortable spending their money. Chinese people have a long tradition of saving for unexpected illnesses, children's education and retirement. The most important measure to let people dare to spend more is to improve the social security system to make them feel secure.

Third, we need to make people want to spend. Incentive policies will be adopted, such as tax reduction or subsidies for purchases of energy-saving and environmental-friendly products.

Fourth, we'll create more convenient ways for people to spend money. We'll improve the infrastructure for product distribution such as sales networks, telecommunication and transportation. New consumption patterns like online-shopping will also be developed.

Finally, we should make sure their consumption is quality assured by strengthening supervision on the market and preventing fraudulent, counterfeit and shoddy products from being sold.

Through such measures, we will expand domestic demand, especially consumption demand. Expanding domestic demand is always the foothold of economic development. It is our long-term policy.

The government will continue to concentrate on improving people's livelihood this year.

In rural areas, we'll try to achieve full coverage of the new rural pension system, continue to enhance the minimum purchase price for agricultural products, increase subsidies to agriculture, provide more training to migrant workers, and raise the annual subsidy standard for rural cooperative medical care from 200 yuan ($31.75) to 240 yuan ($38.1) per person.

In urban areas, we'll continue to improve the social security system for residents and workers, raise the minimum wage, and set up a normal wage growth mechanism. This year, we will create 9 million new jobs. Although the GDP growth rate target has been lowered by 0.5 percentage points, we should try to promote employment to achieve the goal.

The government will invest more in education, health care and culture, especially in poverty-stricken areas, borders and ethnic minority regions. We'll also ensure that 5 million affordable homes will be completed and the construction of another 7 million will start this year.