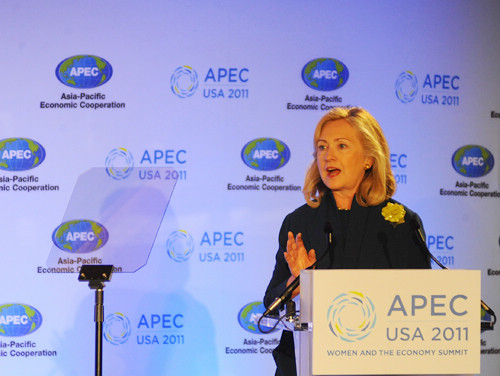 OUTLINING STRATEGY: U.S. Secretary of State Hillary Clinton gives a keynote speech at the APEC Women and the Economy Summit in San Francisco on September 16 (LI YILIN)
The United States is striving to sign preliminary agreements with the other eight TPP members or even more countries. Through the so-called "high-standard TPP," it aspires to restructure the current East Asian regional economic cooperation mechanism and build a new Asia-Pacific economic order led by the United States.
"Our hope is that a TPP agreement with high standards can serve as a benchmark for future agreements—and grow to serve as a platform for broader regional interaction and eventually a free trade area of the Asia Pacific," said Clinton in her article America's Pacific Century.
The Americans believe trade agreements need to include strong protection for workers, the environment, intellectual property, and innovation. The free flow of information technology and the spread of green technology should also be promoted, Clinton said.
The U.S. enthusiasm for the APEC Summit provides evidence of Washington's global strategy adjustments. In order to adapt to changes at home and abroad in the post-financial crisis period, the United States is modifying its foreign strategies by pursuing two major shifts.
First, the United States is striving to shift the focus of its foreign policy from national security to economy. It emphasizes diplomacy should help reinvigorate the U.S. economy, expand exports and increase employment.
The U.S. emphasis on the economic work of APEC is in keeping with its broader commitment to elevating economic statecraft as a pillar of American foreign policy, Clinton said. Economic progress depends on strong diplomatic ties, and diplomatic progress depends on strong economic ties.
"A focus on promoting American prosperity means a greater focus on trade and economic openness in the Asia Pacific ... As we strive to meet President Obama's goal of doubling exports by 2015, we are looking for opportunities to do even more business in Asia," said Clinton.
In 2010, U.S. exports to the Pacific Rim totaled $320 billion, supporting 850,000 American jobs.
Second, the United States is trying to shift its geopolitical focus from the Greater Middle East, which covers West Asia and South Asia, to the dynamic Asia-Pacific region. Based on this thinking, it will host a high-profile APEC Summit, participate in the East Asia Summit, and use smart power extensively in the Asia-Pacific region.
On the one hand, it will play a leading role in maritime issues and other Asia-Pacific security issues with its military supremacy in the region. On the other hand, it will make up for its inadequate economic presence in the region, especially in East Asian regional cooperation. Through this, it aims to ensure U.S. dominance in the Asia Pacific while saving its economy.
The two major shifts are shown clearly in an economic and foreign policy speech of Clinton in New York City on October 14.
Economic statecraft must be at "the heart" of U.S. foreign policy, said Clinton.
"As we end the war in Iraq and begin bringing troops back from Afghanistan, we are making an important pivot. The world's strategic and economic center of gravity is shifting east, and we are focusing more on the Asia-Pacific region," Clinton said.
The United States is not only a resident military and diplomatic power in Asia, but also a resident economic power, said Clinton.
All her statements prove the United States will make every effort to return to the Asia Pacific. But it wants more than a return. It aims to seek dominance in the region. But given the drastic changes in the Asia Pacific, it will definitely be difficult for the United States to realize its ambitions.
The author is deputy director of the Institute of World Political Studies at the China Institutes of Contemporary International Relations