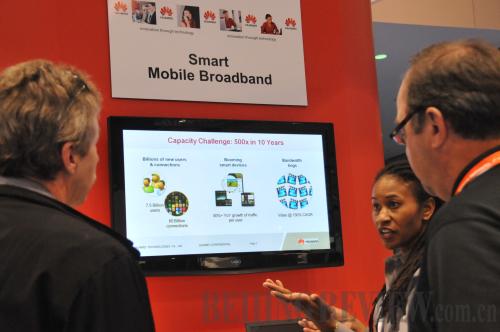 TAKING THE LEAD: Visitors listen to the introduction of the mobile broadband technology of Huawei at an exhibition in the United States in October 2010 (JIANG XINTONG)
Tang Wen, a recent graduate of material science of Huazhong University of Science and Technology in central China's Hubei Province, ended her employment hunt by accepting a job with Huawei Technologies Co. Ltd., the largest supplier of telecommunications equipment in China and the second largest in the world. She was told her career in Huawei might start with a stint overseas, probably in less developed countries in Asia, Africa and Latin America.
Having employees work overseas is not a new trend for Huawei. By the end of last year, Huawei had more than 110,000 employees, 51,000 of whom were based abroad. As early as 2005, Huawei has seen its overseas sales grow to exceed its domestic business, a milestone for its market restructuring. Last year Huawei's sales revenue rose 24.2 percent year on year to 185.2 billion yuan ($28.4 billion), said its annual report released on its website. Huawei attributed the growth mainly to its fast-growing overseas markets, with sales there rising 33.8 percent year on year to 120.4 billion yuan ($18.9 billion) last year.
Much of Huawei's original success abroad was due to the fact that it was uniquely positioned to take advantage of its growth in developing nations. First, because Huawei began designing products and services for the Chinese market, it developed a product portfolio specifically catered to the needs of developing nations. Huawei's solutions were more suitable for other developing countries with limited existing infrastructure to work around or build upon.
In 1999, Huawei launched the "New Silk Road" marketing initiative and started to display itself at international expositions.
"Huawei attended dozens of international communication exhibitions every year to impress international telecom operators," said Li Jie, Vice President of Huawei.
"In order to change the stereotype impression of China as a backward, enclosed country, Huawei invited overseas customers to China and to its campus in Shenzhen to get a direct impression of China's economic reform progress," said Li. "The visit let our potential customers believe the strength of Huawei."
In 1999, Huawei entered Thailand, Singapore, Saudi Arabia, South Africa and Egypt, and by 2001 it had established branch offices in over 40 countries, with its international sales accounting for 12 percent of its total sales.
However, developing nations are not the sole source of Huawei's success outside China, and Europe has quickly become an important market for the company. Huawei now supplies all of Europe's major operators including Vodafone, Deutsche Telekom, France Telecom and Telefonica, with its European sales reported at around $3 billion in 2010.
To win the competition in the international market, Huawei must maintain its technological supremacy over rivals, said Huawei President Ren Zhengfei.
Huawei has established 20 research institutes around the world from Stockholm to Moscow to Bangalore. Around 46 percent of Huawei's employees are engaged in research and development (R&D). In 2010 it invested 16.55 billion yuan ($2.6 billion) in R&D.
Since 2000, Huawei has established 10 R&D centers with Texas Instruments, Motorola, IBM, Agere Systems, Sun Microsystems and Microsoft.
The partnership with our rivals has brought about a win-win solution for both parties, said Ren.
Huawei is famous, not only for its fast growth, it is also known for topping the world's patent application in 2008 when it made 1,904 patent applications, according to World Intellectual Property Organization headquartered in Geneva, Switzerland.
By 2011, Huawei had filed 49,040 patent applications. Of the 17,765 granted, 3,060 were overseas patents. Huawei also holds a leading position in terms of essential LTE (long-term evolution, the technology standing in the middle of the present 3G and next 4G) patent applications.
Patents are where our core competitiveness is, said Ren.
Since the telecom industry is a highly globalized industry, it is a viable way for Huawei to cultivate high-quality talents at home and send them to tap overseas market, said John Zhang, a former North Africa market manager with Huawei.
While sending its own staff members abroad, Huawei is also committed to its localization strategy. Currently, Huawei has offices in over 140 countries around the world. Its employees come from 150 countries and regions, and the number of foreign employees exceeded 21,700 in 2010, accounting for 19.4 percent of its total workforce. In 2010, Huawei enhanced its localization efforts. The localization rate of employees in its overseas offices increased from 65 percent in 2009 to 69 percent in 2010. Managerial positions are also available to foreign employees, a practice that helps enhance the diversity of the management team.
Although Tang is still anxious to find out where she will be sent, she is ready for the opportunity. "Huawei offers high subsidies for working overseas, so the job's worth it," she said.