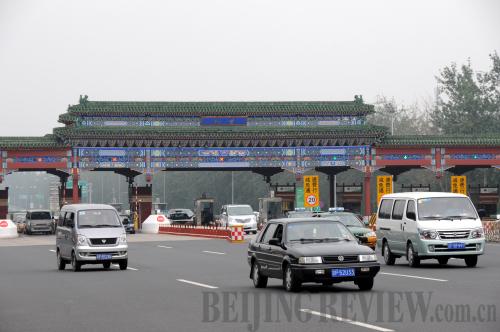 HEAVY TOLL: Cars are passing a toll gate near the Beijing Capital International Airport (WANG ZHEN)
Fierce competition
China has become a major logistics country but is still far from being a strong one, said Zhou Meng, a logistics analyst at Shenyin & Wanguo Securities Co. Ltd.
According to the National Bureau of Statistics, China had more than 130,000 entities engaged in logistics in 2008. But the actual number may be more than 1 million, including unregistered ones, reported CCTV citing an unnamed industry insider.
"It is hard to raise the price. If I do, I will lose my clients. Competition is too fierce," Xiao said.
The market concentration in the road logistics industry is very low and so is the ability to bargain, said Zhou.
According to Zhou, China's top 20 road transportation enterprises had a market share of only 2 percent, while in the United States, the top five share 60 percent.
The road logistics industry must change this situation through mergers and acquisitions, increasing market concentration and breeding bigger enterprises, said Zhou.
Meanwhile, those logistics companies mainly focus on domestic businesses. International express delivery is dominated by foreign-funded companies in China, which occupy a market share of 80 percent.
Since China's logistics market was opened in 2005, major international giants including FedEx, TNT, UPS, DHL, Exel, and Maersk have started operations in China.
Since it came to China in 1998, United Parcel Service (UPS), the world's largest package delivery company, has established two large transfer centers in China. Last year UPS China scored an income growth rate of 40 percent.
DHL China's service network has covered more than 400 major cities and 95 percent of the total national population.
Heavy burden
The ratio of logistic costs to a country's GDP reflects the efficiency of the logistics industry.
CFLP data showed that expenditures on logistical services in China totaled 3.7 trillion yuan ($570 billion) in the first half of 2011, an increase of 18.5 percent year on year.
The expenditures accounted for 18 percent of China's GDP in the first half of the year.
China's ratio of logistics spending to GDP is almost 10 percent higher than the average level for developed countries, said Jing Linbo, Deputy Director of the Institute of Finance and Trade Economics of the Chinese Academy of Social Sciences.
Road tolls account for nearly one third of the operational costs, said He Liming. Heavy tolls not only weigh on the profit margins but also reduce logistics efficiency.
If the expenditures on logistics could be cut by 1 percentage point, that would mean the logistics industry could bring in an extra 400 billion yuan ($62.7 billion), said He Dengcai, Vice Chairman of CFLP.
In addition to tolls, repetitive taxation has been another major problem plaguing the whole industry.
Currently, different tax rates are imposed on transportation and logistics services, including storage and distribution.
Some logistics operations are being unfairly charged for tax, said Cui Zhongfu, Vice Chairman of CFLP. For example, the business tax is 5 percent for warehousing operation and 3 percent for transportation, but the profit margin of warehousing is lower than transportation
A needed boon
The biggest highlight of the newly released guidelines is to alleviate the burdens on the industry, said Jing.
The government has pledged to cut fees and tolls by gradually eliminating tolls on secondary roads, reducing toll gates and restricting the number of toll ways, according to the guidelines.
The government will also enhance the supervision on toll roads and gradually bring down toll charges on express ways. In the future, more priority will be given to building toll-free roads and tolled expressways.
Tax burdens on logistics enterprises will also be reduced.
Relevant departments should complete supportive tax policies for logistics enterprises and unify the tax rate in the storage, distribution, freight forwarding and transportation sectors, said the guidelines.
"In the future, the business tax on all logistics operations will be reduced to 3 percent. In addition, if a logistics operator has been charged business tax, its subsidiaries will not have to pay such tax again for their transportation, warehousing and other logistics operations, and a company can be exempted from business tax on outsourced logistics operations," said Zhang Hongbo, an analyst with the Beijing-based Citic Securities.
This will dramatically reduce the tax burden on logistics enterprises, said Zhang.
Meanwhile, the government is encouraging big logistics enterprises to consolidate the fragmented industry through mergers and acquisitions, while small and medium-sized enterprises should consider forging alliances for common development, according to the guidelines.
Small and medium-sized logistics enterprises are also encouraged to cooperate and innovate their service model and improve service quality.
Trade and commerce companies are encouraged to cooperate in dispatching goods to lower distribution cost and increase efficiency.
Logistics enterprises are encouraged to cooperate with manufacturing companies and be included in their supply chain.
The government also vows to accelerate reform in the logistics management system, reallocate logistics resources, push forward the innovation and application of logistics technologies, and invest more in the sector.
Local governments are required to invest more toward building logistics infrastructure and provide necessary capital support to key logistics companies.
"The issuance of the guidelines showed the government's determination to boost the logistics sector. I believe the industry will enjoy a better business environment in the future," said He Liming.
He also advised the government to enhance coordination mechanisms to put every detailed guideline into practice since the logistics industry is a compound industry involving different regions and sectors.