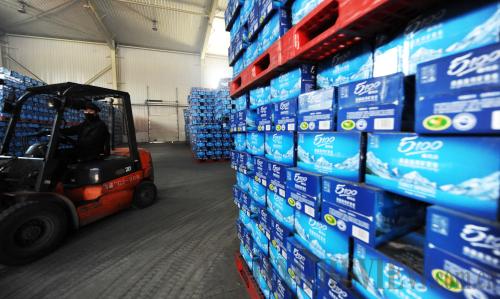 READY TO BE SHIPPED: A forklift unloads goods at a logistics center at the Nagqu station of Qinghai-Tibet Railway, which will become the largest modern logistics center in west China (HOU DEQIANG)
Wu Zhongyao, a truck owner and driver, often transports goods between northeast China's Liaoning Province and south China's Guangdong Province. Many truck owners and drivers like Wu have taken up cross-country driving excursions to deliver goods as the country's logistics industry continues to grow.
The emergence of a domestic market, rising demand for industrial and consumer goods and a large geographical spread have resulted in the development of logistics services, said Ding Junfa, Vice Chairman of the China Federation of Logistics and Purchasing (CFLP).
Data from the CFLP showed that the total value of goods moved in 2010 rose 29 percent year on year to 125 trillion yuan ($19.66 trillion) and the industry's added value grew 17 percent to 2.7 trillion yuan ($421.88 billion) last year, accounting for 7 percent of the country's GDP.
But it seems that Wu hasn't benefited much from the industrial boom. In one trip, he spends nearly 9,000 yuan ($1,400) on road tolls on the 2,576-km long journey. But the three-day trip of delivering goods would only bring Wu 4,000 yuan ($625) in profit.
Xiao Rong, head of Beijing Changjiang Langchao Logistics Co. Ltd., said his company's profit margin has been squeezed from 100 percent to 10 percent in the last five years.
In the January-May period this year, major logistics businesses realized a year-on-year profit growth of 4.2 percent, down 33.2 percentage points from the same period last year, according to the CFLP.
Despite industrial expansion, logistics companies have had to deal with relatively small profit margins because of fierce competition and rising delivery costs.
"It is a pressing need for the government to adopt new measures to boost the logistics industry," said He Liming, Chairman of CFLP. Current policies lag behind the actual needs of the industry, which restricts further development of the sector.
Good news came in late August, when the State Council released guidelines aimed at promoting the healthy development of China's logistics industry.