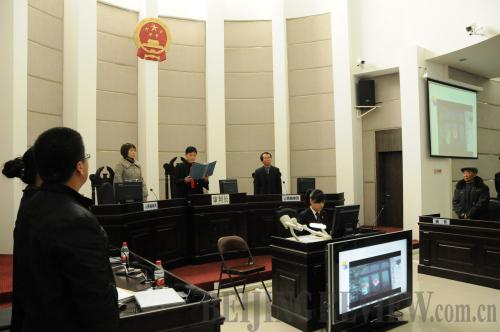 JUSTICE IN LAW: China's first class-action lawsuit concerning public environmental interest is heard in Guiyang, Guizhou Province, on December 30, 2010 (QI JIAN)
Amendment of China's three major procedural laws—the Criminal Procedure Law, the Civil Procedure Law and the Administrative Procedure Law—has begun, said the Legislative Affairs Commission of the Standing Committee of the National People's Congress (NPC). The work has been placed on the legislative agenda of two consecutive NPCs.
As opposed to substantive laws, which define, describe, regulate and create legal rights and obligations, procedural laws specify the processes of court proceedings and other formal procedures relating to law enforcement. They provide operational details to substantive laws.
Illegal evidence
Enacted in 1979, the Criminal Procedure Law stipulates people's procuratorates are responsible for approving arrests and initiating public prosecution. Procuratorates and private prosecutors have responsibilities to collect and provide evidence. If prosecutors cannot prove the accused guilty, the accused will be declared innocent.
In 1996, the law was given a major overhaul. The prohibition of illegal evidence extraction and self-incrimination was included in the law. But reports of a series of cases involving torture, violence or threats in interrogations exposed flaws in the system.
In 2005, She Xianglin, a security guard from central China's Hubei Province, was released after 11 years in jail. He had been wrongly convicted of murdering his wife. His conviction and sentence was based on his "confession," despite the fact that his wife's body was never found. She Xianglin's wife eventually turned out to be residing in her hometown. She Xianglin said his confession had been coerced after 10 days of torture and sleep deprivation.
In May 2010, Zhao Zuohai, a farmer from central China's Henan Province, was acquitted after serving 10 years in prison for murder after the supposed murder victim, Zhao Zhenshang, was found alive and well. Three former police officers were arrested for torturing Zhao into confessing to a crime that never happened.
"The existing law doesn't preclude evidence obtained through illegal means and address its consequences, said Wang Minyuan, a researcher with the Institute of Law of the Chinese Academy of Social Sciences.
Because of this, coerced confessions and evidence obtained through questionable intrusion could still be recognized as valid in prosecution procedures, and that was a major reason for the repeated cases of forced confessions and other miscarriages of justice, Wang said.
Besides, offering leniency to those who confess to crimes has been one of the major policies in interrogation for several decades in China. This is believed to favor confession over evidence, which prompted some police officers or procurators to resort to violence.
"China needs to amend the law on a large scale again," Wang said.
Last year, the Supreme People's Court, the Supreme People's Procuratorate, the Ministry of Public Security, the Ministry of State Security and the Ministry of Justice jointly promulgated regulations on excluding illegally obtained evidence.
In March, NPC Standing Committee Chairman Wu Bangguo said in his work report to this year's NPC session the amendment of the Criminal Procedure Law was on the NPC Standing Committee's agenda this year.
The NPC Standing Committee's Legislative Affairs Commission was researching the amendment, said the commission's Deputy Director Lang Sheng.
Wang said he believes the amendment will include effective measures to prevent the extraction of confessions through torture or violence. "Rules stating evidence collected by torture, violence or other illegal ways cannot be used to convict suspects will probably be added to the law," he said.
The amendment should also conform to the International Covenant on Civil and Political Rights adopted by the UN General Assembly, Wang said.
China signed the multilateral treaty in 1998 but has not completed the required ratification process.
"The convention says a defendant shall 'not be compelled to testify against himself or to confess guilt,' which is likely to be adopted by the amendment of the Criminal Procedure Law, Wang said.