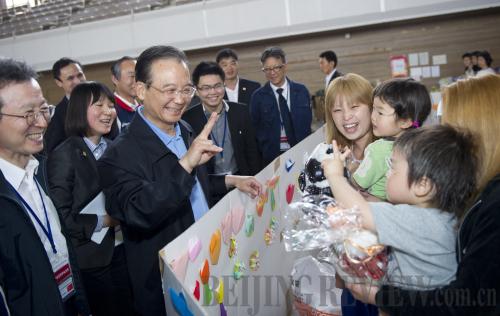 SINCERE SMILES: Chinese Premier Wen Jiabao chats with children at a sanctuary in Fukushima on May 21 (HUANG JINGWEN)
Free trade
At the summit, Wen proposed to launch official negotiations on a China-Japan-South Korea free trade area next year. But there are still a lot of challenges ahead, said Shi.
"A China-Japan-South Korea free trade area will benefit Japan and South Korea greatly, but the two countries have adopted conservative attitudes in this regard," Shi said.
One of the challenges is the opening of agricultural product markets in Japan and South Korea, he said. The degree of market openness in the two countries remains quite low, with high tariffs and non-tariff trade barriers. Also, industry associations and local authorities in Japan often conduct strict reviews of imports and exports.
In trade with Japan and South Korea, China runs a huge deficit. But it will treat this deficit with a positive approach, try to strike a trade balance and never resort to trade protectionism, said Wen.
Japan is China's third biggest trade partner following the EU and the United States. It is also China's biggest import market. Statistics of China's Ministry of Commerce show trade between China and Japan reached $297.8 billion in 2010, up 30.2 percent over the previous year. Of this total, China's exports to Japan were $121.1 billion, and its imports from Japan were $176.7 billion.
In the same year, China's trade volume with South Korea was $207.2 billion, up 32.6 percent. Of the total trade volume, China's exports to South Korea were $68.8 billion, and its imports from South Korea were $138.4 billion.
The Chinese Government welcomes companies from Japan and South Korea to invest in China, Wen said. China gives national treatment to all foreign-funded enterprises, while protecting their intellectual property rights as well as other legitimate rights and interests. The Chinese Premier also said he hoped Japan and South Korea provide convenience for Chinese investors in their countries.
Post-quake support
To help Japan accelerate its recovery from the disaster, China will send trade delegations and tourists to Japan, and ease import restrictions on Japanese food products provided Tokyo ensures their safety, Wen said.
At a meeting with Japanese Prime Minister Naoto Kan, Wen said the Chinese Government will invite 500 students from Japan's disaster-hit areas to China. In addition, 4,000 Chinese and Japanese young people will visit each other's countries this year.
China will also boost high-level official exchanges with Japan to strengthen political trust in the run-up to the 40th anniversary of the normalization of Sino-Japanese diplomatic relations in 2012. Wen and Kan agreed to promote renewable energy and improve energy efficiency in their talks as well.
Sino-Japanese friendship is built on positive feelings among both peoples, Wen said. On the sidelines of the trilateral summit, Wen met Japanese students from the Sophia University in Tokyo and encouraged them to make concrete efforts to promote friendship between the two nations.
His visit to Fukushima also aimed to show China's support for Japanese people's efforts to overcome the disaster and rebuild their homes, said Liu Jiangyong, a professor with the Institute of International Studies of Tsinghua University in Beijing.
Although China's assistance in Japan's disaster relief and reconstruction helped improve relations between the two countries, their deep-rooted problems, such as territorial disputes in the East China Sea, cannot be solved in the short term, Shi said.
In September 2010, a collision between two Japanese patrol boats and a Chinese fishing boat in waters off the Diaoyu Islands caused a diplomatic row. Sino-Japanese relations hit a rough patch afterwards.
China, Japan and South Korea face challenges such as stalled talks on the Korean Peninsula nuclear issue and disputes over maritime rights, Liu said.
While increasing exchanges, the three countries should work for long-term security in the region by facilitating dialogue on sensitive issues and preventing the escalation of disputes, he said.
China's Proposals
Chinese Premier Wen Jiabao made a seven-point proposal on expanding cooperation between China, Japan and South Korea at their fourth trilateral summit in Tokyo on May 22:
- supporting Japan's post-quake reconstruction
- attaching great importance to nuclear safety
- promoting practical cooperation on disaster prevention and reduction
- promoting liberalization and facilitation of trade and investment
- developing renewable energy and popularizing energy-saving technology
- speeding up construction of demonstration bases for circular economy
- boosting people-to-people and cultural exchanges
(Source: Xinhua News Agency)