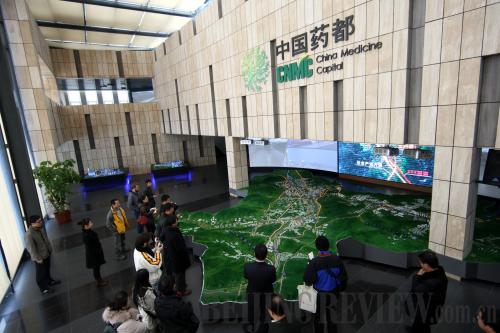 GIANT PLAN: A scale model of the Shenxi New City, which aims to build itself into China's "medicine capital" (ZHAO XI)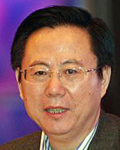 Benxi Mayor Wang Shiwei (ZHAO XI)
Like many of her neighbors, Wang Yanjie from Shiqiaozi, a small town of Benxi, Liaoning Province, moved to south China's Guangdong Province as a migrant worker a few years ago when she was unable to find a job in her hometown. Last summer, the 39-year-old woman returned to Benxi and took a job in a nearby newly-built company—Shenyang Fudong Pharmaceutical Co. Ltd.
"I now earn 1,000 yuan ($150.3) per month, which is 200 yuan ($30.2) less than I made in Guangdong," Wang said. "But now I can take care of my family, and especially my only daughter. She is in her last year of junior high school and it is good to see her everyday."
Located between Benxi and Liaoning's capital of Shenyang, the once-small Shiqiaozi is now dubbed the Shenxi New City. It is here that the northeast China's pharmaceutical center—the Liaoning (Benxi) Bio-pharmaceutical Industry Base—is located.
Benxi was once home to a strong pharmaceutical industry, as the city is located near the Changbai Mountain Range and has a geographical advantage for growing Chinese medicinal herbs. But the industry declined sharply as the city government vigorously promoted the coal mining and steel industries. When the coal reserves were nearly exhausted and the steel industry could hardly sustain the local economy, a return to the pharmaceutical industry was the most convenient option.
Actually, the 205-square-km Shenxi New City—and the 1.8 billion yuan ($270 million) investment in the past three years—will not only change the future of local residents like Wang, but the future for all of Benxi.
An industrial shift
Benxi, a city with a population of 1.6 million, was once rich in coal and iron resources. Its coal industry has a century-long history. "Steel became the only pillar industry in Benxi, after coal resources were exhausted at the end of the last century," said Wang Shiwei, Mayor of Benxi.
In recent years, the steel industry accounted for nearly 70 percent of the overall fiscal revenue of the city, Wang said. And it is increasingly difficult to support the development of a city with the steel industry alone, he added.
Since Benxi is still rich in herbal medicine resources, the once-popular pharmaceutical industry began to gradually regain a foothold near the turn of the century.
The proposal for the Shenyang Metropolitan Area gave a powerful push to Benxi's burgeoning pharmaceutical industry.
In an attempt to become better integrated with the Shenyang Metropolitan Area, Benxi decided to establish its pharmaceutical base—the Shenxi New City—on a piece of land 20 km north of Benxi. It's just 28 km from the Shenyang Taoxian International Airport.
Shenyang Fudong Pharmaceutical Co. Ltd. made the decision to expand into the Shenxi New City in 2010. "Our company was based in the center of Shenyang, but we could not afford the land prices for expansion in Shenyang. So we decided to move here," said Huo Yanling, general manager of the company.
Fudong Pharmaceutical launched several herbal medicine processing production lines last fall and created more than 100 jobs for local residents.
A medicine capital
Benxi's efforts to build a pharmaceutical base were rewarded by both domestic and international pharmaceutical enterprises.
By the end of 2010, 112 enterprises had invested in the pharmaceutical base and realized a total sales volume of 5 billion yuan ($755 million). In the next three to five years, it hopes to realize a total sales volume of 100 billion yuan ($15 billion) and have an industrial cluster, centered on medicine, in place.
At present, the base serves six major functions: technological R&D, herbal medicine planting, product manufacturing, education and training, commerce and logistics.
In October 2010, the Shenyang Pharmaceutical University established an institute of medicine research in the base and sent their research staff to work there.
"We provide complete R&D equipment for researchers from four pharmaceutical universities," said Zeng Yimei, Director of the Public Technology Service Department of Liaoning (Benxi) Bio-pharmaceutical Industry Base.
"It is just one hour on the shuttle bus to Shenyang, so researchers from Shenyang can go back home everyday," Zeng said.
Shenyang's Subway Line 2, which is currently under construction, will connect Shenyang and the Shenxi New City and will shorten the commute to 30 minutes.
Over the next decade, the Shenxi New City will be built into the biggest pharmaceutical center in north China, with a total population of 1 million and an annual output of 100 billion yuan ($15 billion), said Lin Aimin, Vice Director of Liaoning (Benxi) Bio-pharmaceutical Industry Base.
"We hope the pharmaceutical base will lure people from around China—and the world—to work and live here," said Mayor Wang.