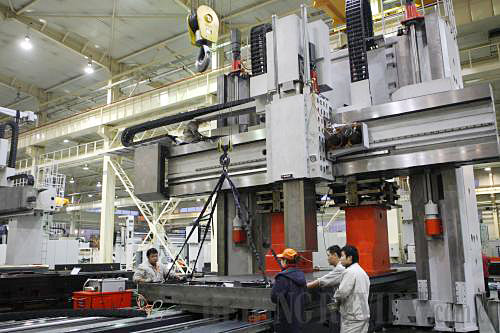 AN ELEPHANT'S STRIDE: In 2009, Shenyang Machine Tool Co. Ltd., China's largest lathe manufacturer, rose from the 36th to the second largest in the world (ZHAO XI)
Tiexi District in Shenyang, the capital city of northeast China's Liaoning Province, was nicknamed the Oriental Ruhr, after the principal manufacturing region of pre-1980's Germany. China's first machine tool, fighter plane, elevator and automatic lathe were all manufactured in Tiexi.
Tiexi experienced a long and painful transition in the last three decades, as China transformed its planned economy to a market economy.
In 2003, the State Council formulated a strategy to rejuvenate the old industrial bases in northeast China. With that, Shenyang Municipal Government pressed the reset button on its manufacturing industry.
The industrial enterprises in the downtown Tiexi District were moved to the adjacent suburban Shenyang Economic and Technological Development Area (SETDA). The original Tiexi District and the SETDA are both part of what is now referred to as the Tiexi New District. So far, a total of 206 enterprises have been moved. They have received 12 billion yuan ($1.81 billion) in compensation for the relocation, which they used to upgrade technology, expand production space and purchase new facilities.
In the first 10 months of this year, Tiexi New District realized a total industrial output value of 206.4 billion yuan ($ 31.2 billion), a year-on-year increase of 20.2 percent.
Strategic support
Shenyang Machine Tool Co. Ltd. is one of China's leading equipment manufacturers. It used to have three subsidiary factories at different locations in downtown Shenyang, but the three were merged and relocated to SETDA in 2006.
"The workshops are now bigger, brighter and cleaner," said Sun Wei, a 51-year-old worker at the company. "Each workshop boasts a vestibule which is decorated like a garden."
The relocation provided not only a better environment, but a strategic opportunity for growth. With its 1.8 billion yuan ($271.9 million) compensation, the company upgraded its technology and launched its informationalization. It also optimized production distribution and improved resource efficiency, said Guan Xiyou, Chairman of Shenyang Machine Tool Co. Ltd.
Innovation-driven growth
Shenyang Blower Works Group Co. Ltd. (Shengu) is another company relocated to SETDA.
A visitor to Shengu's workshop will see workers punching commands into digital controllers, rather than doing heavy physical labor.
Information technology has driven Shengu to develop rapidly, said Deng Changhui, Party Deputy Secretary of Shengu.
As of this year, Shengu has started to use computers for 100 percent of its design work. Deng said with the help of computer software, Shengu is now able to design a new product in three months. "In the past, it took eight months," he added.
In the past three years, Shengu recruited more than 400 university graduates. About 20 percent have master's degrees, according to Deng.
Cutting-edge production requires workers to continually learn new technologies in order to keep up with the latest developments, said Yang Jianhua, a 57-year-old worker of Shengu.
Despite having only a junior high school education, Yang has never stopped learning. Since he started at Shengu 37 years ago, Yang has taught himself riveting, welding, metallurgical technology and mechanical drafting. He and his co-workers made China's first welding compressor shell and the first 100,000-ton methanol compressor.
Using the centrifugal compressor shell assembly technology Yang invented, the company has produced more than 800 welding compressor shells, worth more than 300 million yuan ($45 million).
In 2007, Yang was awarded China's National Prize for Progress in Science and Technology, the most prominent award in the field. He was the second ordinary worker in the country to win the prize. His salary is more than 6,000 yuan ($900) per month, nearly twice as much as the average employee income in Shenyang. He also owns a car, a reward from his company for his innovative contributions.
"We learn by ourselves. In addition, our company has frequently provided training courses," said Yang.
Workers are required to receive training every year to improve techniques and skills, said Deng. Excellent workers will be sent abroad for training.
Of the 6,400 staff workers at Shengu today, 1,400 are product designers. Shengu has established colleges in four well-acclaimed science and technology universities—Dalian University of Technology, Xi'an Jiaotong University, Northeast University and Zhejiang University—and now has its own research center for post-doctoral studies.