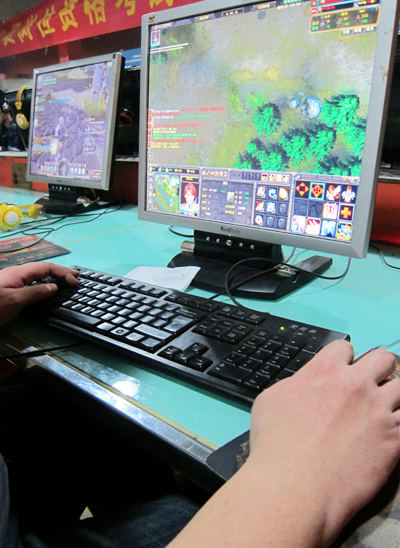 EPHEMERAL FUN: Online game players have a huge amount of legally unrecognized virtual assets (LI WEN)
However, some legal experts are prepared to endorse a broader understanding of what can be classified as virtual assets. Zhao Zhanling, a senior researcher with the Center for Intellectual Property Rights Studies at Beijing-based China University of Political Science and Law, believes that having value is the essential character of virtual assets. "Instant messaging accounts, online game accounts and microblog accounts all have the properties of assets, although they are different from traditional assets," Zhao said.
Zhao also said that virtual assets should include user scores and rankings at online forums or games since users have spent time, effort and, in some cases, money in obtaining them.
At present, China does not have any laws governing the protection of virtual assets or even a clear definition of what they are.
In 2003, a group of 19 lawyers from southwest China's Sichuan Province submitted a proposal to the National People's Congress (NPC), the country's top legislature, calling for virtual asset legislation after local police authorities refused to investigate an online game player's complaint regarding the theft of his online gaming account and scores.
In 2008, the State Administration of Taxation issued a notice on its website, saying that individuals who profit by selling the virtual currency used in online games should pay income tax at a rate of 20 percent. This was seen as an indirect recognition of virtual assets as part of the economy.
The Ministry of Culture and the Ministry of Commerce jointly issued another notice on the use of virtual currency in online games in June 2009. "Virtual currency can only be traded for virtual goods and services provided by its issuer, not real goods or services from other providers," said the notice.
Given a steady increase in cases involving the trade and theft of online game accounts and achievements nationwide, NPC deputies, law professors and operators of social networking sites have been calling on the Supreme People's Court to release judicial interpretations regarding virtual assets. However, the court said drafting such interpretations is impossible given the absence of legislation governing virtual assets.
"Cyber companies and their customers are encouraged to solve their disputes through arbitration. The courts should also try these cases fairly and provide convincing rulings," Liu Haijun, a law professor at Renmin University of China in Beijing, said in an interview with Beijing-based Procuratorate Daily.
Although the majority of netizens sympathized with Wang's plight and condemned Tencent for declining her request to take over her deceased husband's QQ account, others argue that social networking sites shouldn't grant permission for anyone to access a deceased user's account without strict identity verification procedures.
"Protecting privacy is also a form of paying due respect to the deceased," wrote one micro-blogger.
Zhang also believes that striking a balance between recognizing the value of online assets and protecting online privacy will not be easy. "There are times when users may not want even those closest to them to access their online files," Zhang said.
As controversies over online heritage have attracted more attention, a large number of bloggers are giving serious thought to how their cyberspace identity will be preserved and passed on after their death. Many of them said that they would include their QQ passwords in their wills.