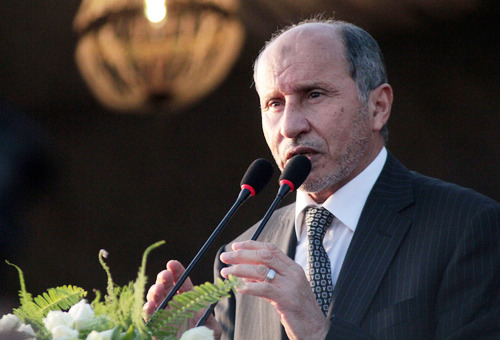 NEW ERA: Mustafa Abdel Jalil, chief of the Libyan National Transitional Council, speaks at a ceremony announcing Libya's liberation in Benghazi on October 23 (XINHUA)
The death of former Libyan leader Muammar Gaddafi on October 20 marked a turning point for the North African country. Three days later in the country's second largest city Benghazi, which was rocked by massive anti-Gaddafi protests in February, the ruling National Transitional Council (NTC) declared that Libya had been "liberated."
With this announcement, the eight-month-long conflict between Gaddafi's loyalists and NTC fighters ended. But the turbulent situation in Libya didn't, and the country will face mounting uncertainties as the new authorities try to restore peace and stability.
The NTC has said an interim government will be formed within a month to run the country's affairs. However, analysts pointed out that forming such an interim government will not be easy. Plus, challenges will remain even if the new government is established as scheduled.
"Libya's chance of resuming stability within a short time is very slim," said Li Guofu, Director of the Center of Middle East Studies at the China Institute of International Studies. "It will go through a long transitional period—a process of reorganizing and reallocating political and economic power as well as cultural influence—during which chaos and armed conflicts might persist."
He pointed out that the situation is complicated because of existing conflicts between tribes, ethnic groups and religious factions, which have a long history. The NTC will have to spend most of its time and energy balancing different kinds of conflicts.
Libya can generally be divided into three parts, the south, the east and the west. The east, with its center in Benghazi, had been the political and economic center until Gaddafi came to power after a coup in 1969. Gaddafi established the Socialist People's Libyan Arab Jamahiriya in 1977 and adopted a relatively loose state structure similar to anarchy. The country's political and economic center moved to the capital city of Tripoli in the west. Hatred between the west and the east is deeply rooted, said Li Guofu.
Anti-Gaddafi protests started in February in several eastern cities including Benghazi. Also, militants from the east played an important role in overthrowing the Gaddafi regime. It is predictable that the east will have a bigger say in the future administration, said Li Guofu.
"Politicians representing different parts of the country will fight for influence during the transitional period," he said. Although Gaddafi is dead, his supporters remain active.
NATO has declared that it is scheduled to end its military operations in Libya by October 31. Gaddafi's death and the withdrawal of NATO forces will leave a period of power vacuum in Libya. Clashes among different ethnic groups aiming to seize power might break out.
"The biggest challenge for Libya is that it cannot form a new government with real authority," Li Guofu said. "The NTC currently is not able to implement its strategies and policies throughout the country."
Worse still, the fight against Gaddafi has created a well-armed population, which poses a big threat to Libya's security, he added.
Li Guofu also said because the NTC has shown signs of growing Islamism, its future policies might trigger disapproval from both Western nations and Libyan youth. NTC chief Mustafa Abdel Jalil reiterated that traditional Islamic law would be the main source of law in Libya, and any law that contradicts Islamic law would be suspended. For example, polygamy will be accepted in the country in accordance with Islamic law.
During the Gaddafi era, Libya adopted relatively moderate and open social policies, Li Guofu said. Young Libyans will hardly be able to get used to strict Islamic law. Many scholars and government officials have also accepted the modern culture of the outside world. Conflicts between cultures and ideologies will affect stability during the interim period.