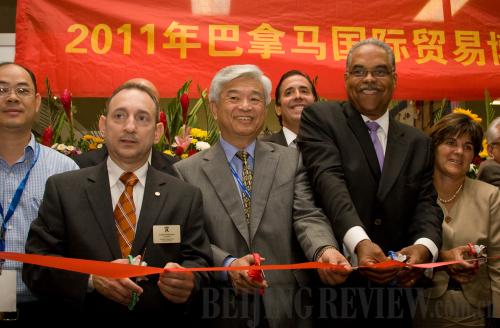 REACHING OUT: Bao Esheng (center), head of the Office of Commercial Development of China in Panama, cuts a ribbon to inaugurate the China Pavilion at Expocomer 2011 in Panama City on March 24 (WANG PEI)
For instance, China is a member of the Group of 20 Developing Countries, which was established in August 2003 in the run-up to the Fifth WTO Ministerial Conference in Cancun, Mexico. The bloc consists of developing nations from Asia, Africa and Latin America, including Brazil, India, Argentina, South Africa, Indonesia and Thailand. The group aims to safeguard the interests of developing nations, eliminate the distorted trade policies of developed countries, and urge developed countries to further open up markets and offer special treatments to developing countries. It has been a significant force in the Doha Round talks.
Also, China is an observer of the Group of 33, a bloc that includes Indonesia, Cuba, Kenya, Nigeria, Pakistan, the Philippines and Turkey. Member countries are committed to fighting for rules that will allow them to use special safeguard measures to protect domestic producers of agricultural products of strategic importance to their food security from the effects of subsidized food imports.
All in all, within the framework of the WTO, China tries to seek as many preferential treatments for developing countries in the international trade system as possible. Its efforts will help level the playing field for developed and developing countries alike.
China will play a more significant role in the new international trade system. As a leading trade power and a representative of developing countries, it has already pushed the international trade system toward profound adjustments. Also, it has promoted the development of a framework for multilateral trade cooperation.
More importantly, China will turn from a mere participant in the reform into an active coordinator. It will even be an important leader in certain areas. For instance, during the trade in services negotiations of the WTO, China was invited to talks of all levels, including various small-group meetings.
As the reform is a gradual process, new problems have kept emerging. For example, some countries attempt to bring climate change into multilateral trade negotiations. In this way, they have created new barriers for developing countries and slowed down the reform.
China regards addressing these new problems to safeguard the core interests of developing countries as one of the major obligations in its participation in the international trade system. This also creates opportunities for China to enhance its international influence.
In this regard, China's participation will help expand the reform from structural adjustments to specific issues such as fighting against international trade protectionism.
China's struggle against trade protectionism and its positive attitude toward promoting trade liberalization will contribute to the development of a new, fairer trade system. As a major participant in the Doha Round talks, China has been making persistent efforts to push the talks toward a successful ending.
Of course, while taking part in the international trade system reform, China has attached great importance to its domestic market. Faced with severe challenges in the multilateral trade system, the country has to shift its focus to domestic demand.
China has benefited greatly from economic globalization and trade liberalization. The great achievements it has made since reform and opening up in 1978 are, to a large part, due to global trade liberalization.
But China's traditional export-oriented economic development model is mainly supported by low labor costs. This makes China a frequent target of trade protectionism. China's efforts to change its economic development model not only are crucial for the country's sustainable development, but will also help promote adjustments in the global trade pattern.
Through this transition, China aims to change its current economic growth model featuring high resource input, high pollutant emissions and low efficiency into one featuring low input, low emissions and high efficiency.
Moreover, the further opening up of the Chinese market will provide a solid platform and a strong driving force for the development of free trade around the globe. Also, it will contribute to smooth progress in the reform of the international trade system.
The author is an assistant research fellow with the Shanghai Institutes for International Studies