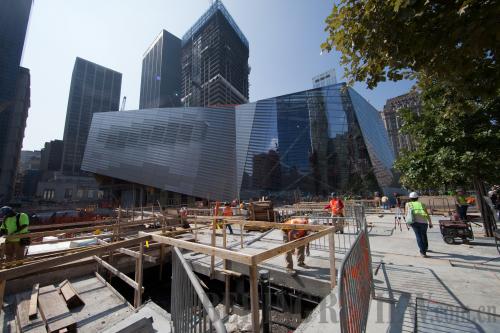 RISING FROM RUMBLE: Construction work is underway at the former World Trade Center site, known as Ground Zero, in New York City (CFP)
Smiling patiently, John Jonas answers questions from a crowd of curious people. The story has been told and retold: Jonas, then Captain of Ladder Company 6, and his men were among the first to respond to the World Trade Center attack on September 11, 2011. They rushed to the north tower to help people evacuate. The company was trapped in debris following the collapse of the tower. But they all survived and rescued a Port Authority worker named Josephine Harris.
"We were in the middle of rescuing a woman when the building collapsed on top of us," said Jonas, now Deputy Chief of the New York City Fire Department. They were trapped in Stairway B of the north tower. The tower "peeled away like a banana" and "we were at the bottom," he said.
"We were trapped for over four hours and we finally got out that day," Jonas said. "Pretty remarkable scene."
Jonas stood in front of his portrait in the Time Warner Center in New York City on August 24, attending a commemorative event ahead of the 10th anniversary of the September 11 terrorist attacks. The free photo exhibit, named Faces of Ground Zero—10 Years Later, features more than 50 life-sized portraits of people affected by the attacks, including firefighters, rescue workers, families of victims, survivors, caregivers, politicians and students at nearby schools.
This exhibit is one of the many commemorative events around the United States marking the 10th anniversary of the terrorist attacks on the World Trade Center and the Pentagon.
"I think I'm just trying to make a contribution," said photographer Joe McNally who started shooting the first picture shortly after September 11, 2001. It was a very stressful time. People were very emotional, McNally said, remembering his first meeting with these people.
"What I found 10 years later with the folks that I stayed in touch with and that came back for photographs is that there is an amazing power of the human spirit," McNally told Beijing Review. "Lives are positive, people are doing things. They are living their lives and they're going forward."
But no matter how ready the whole nation appears to be to move on, for many Americans, life forever changed after the most deadly terrorist attack on U.S. soil, an Al Qaeda attack that killed nearly 3,000 people.
It has taken 10 years to rebuild the ground zero sites, but it may take even longer to restore the psychological health of those who were emotionally involved in the tragedy.
Ten years after the September 11 terrorist attacks, demons still hunt many Americans. "At least 10,000 firefighters, police officers and civilians exposed to the terrorist attack on the World Trade Center have been found to have post-traumatic stress disorder, and in a kind of mass grieving, many of them have yet to recover, according to figures compiled by New York City's three September 11 health programs," said The New York Times.