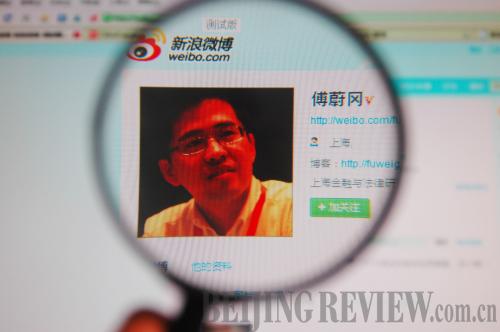 UNEXPECTED DONATIONS: Fu Weigang starts a donation campaign on his microblog in April (WEI YAO)
For example, Wang Xiaoping, a 37-year-old real estate agent in Urumqi, apologized for a dispute with a client and said he would like to take all the blame for it.
Yuan Xinzhe, who works with the website 3150114.com, said as long as people made promises on the website, they would accept the burden of being monitored by society.
Founded in 2006, this website has more than 200 registered users in Xinjiang. "The users have to sign up with their personal information, including birthdays, cellphone numbers and ID numbers," Yuan said. "If they cannot keep their words, we will publicize their information on the Internet."
"For corporate members, we have stricter rules. A legal representative has to give us a signature and provide the basic information of his or her company. If necessary, we will visit the company. As long as a company makes a promise, we will keep track on the process and publicize it on the website if it doesn't keep its promises," Yuan said.
"I think many people really care about their public recognition, that is why they don't make promises casually, not to mention to make promises in public," said Wu Xiaoli, a worker at the website. "So I think online promises can work, in a way."
Monitoring problems
At the end of January, many express delivery companies in China posted notices on their websites, promising they would not halt operations during the weeklong Spring Festival holiday beginning February 2. However, when a reporter from Xinhua News Agency tried to contact the companies on February 2, he found out only one company was operating normally.
"I don't trust their promises online anymore," said Xiao Xinyu, a resident in Yunnan Province who bought some food from an online shop before the Spring Festival. "When I made the order, the shop owner said they could be delivered on time," Xiao said. "But after I paid and waited for three days, I still didn't get a delivery number that I could use to track the order online."
Xiao then contacted the shop owner, who said express delivery companies had refused to deliver during the Spring Festival.
"It is the problem of monitoring online promises," said Li Jiayu, a microblog marketing manager in Beijing. "In most cases, the public has no idea where to turn to when there are frauds."
Li also revealed some of the promise-breaking cases on Weibo.com, mostly relating to promotional lottery drawings. Some companies promised they would randomly award prizes to a small number of people who forwarded their posts. The prizes varied from an iPad to a large amount of money or a nice dinner. However, there was no individual or organization to monitor this process. Some of the companies didn't publicize the list of winners. Their promises were really fraudulent.
As for Fu's donation campaign, Fang Zhouzi, an Internet affairs commentator in Beijing, suspects Fu was attempting a publicity stunt. "When he saw users forwarding at a frightening rate, he set a maximum number of the donation," Fang said. "It is, in a way, eating his own words."
"No matter whether Fu kept his words or not, he is known by many more people and his followers soared from 600 to 50,000 and the number is still increasing," said Xie Qiang, General Manager of Beijing-based Freelong Cultural Communication Co. Ltd., "Many people take advantage of microblogging, especially for commercial purposes. There are no rules for punishing people or companies who fail to fulfill their promises. In Fu's case, even if he refused to donate in the end, we couldn't force him to fulfill his promise except for decrying the irresponsible act."
Fu said in a microblog post on April 30 he had discussed the donation details with Zhang's family. On May 31, he said in another post he was discussing with other donators about the details.
"I think keeping online promises now mostly relies on the conscientiousness of the promise makers," Fu said. "There are still no laws or regulations in this regard so far."
"We can't just rely on conscience," Xie said. "Weibo.com now can only publicize cheaters' wrong doings, but it cannot enforce repercussions. This must be changed as soon as the Internet is playing such an increasingly important role in modern society."