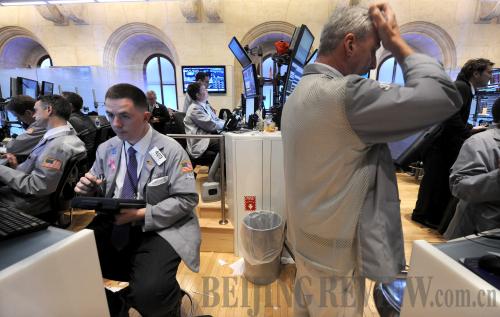 HIT ON STOCKS: Stock dealers work busily at the New York Stock Exchange (NYSE) on March 15. Three NYSE indexes fell more than 1 percent on that day as concerns about the earthquake's impact increased (SHEN HONG)
To compensate for the shortage of Japanese-made parts, many companies in the world will turn to suppliers in other countries and regions. Thus, countries like China may gain new momentum to develop advanced manufacturing industries, to replace imports from Japan.
In addition, to strive for punctual delivery to maintain or even improve their business integrity, many Japanese companies will shift part of their production to factories overseas. They will also accelerate shifting their production capacity to other countries with mature conditions. This will trigger a new round of industrial chain restructuring in East Asia.
In the foreign exchange market, the earthquake has also greatly affected the exchange rate of the Japanese yen. For countries with few foreign assets, such a big earthquake, in addition to causing great damage to actual production capacity and wealth, is tremendously bad news for the value of their currencies.
For Japan, with its large amount of foreign assets, especially many overseas investments by insurance companies, the earthquake brought good news to the Japanese yen in the near term. Many people predict Japanese insurers will sell their foreign assets and buy the Japanese yen in preparation for compensation after the earthquake, and other Japanese companies may sell their foreign assets to make up for the losses and cope with reconstruction.
But the fact is that many Japanese companies are considering shifting at least part of their production capacity overseas and reducing the scale of reconstruction, or even giving up reconstruction. As a result, the prediction will fall through.
After a short wave of appreciation in the yen's value caused by market predictions, the earthquake's damage to the foundation of the Japanese economy will ultimately show up in the yen's exchange rate.
In the commodity markets, the short-term and medium-term effects of the earthquake will also go in a different direction. Unlike the effects on the yen, it will first be bad and then turn good. Also, there will be potential inflation pressure.
Large-scale production suspension in Japan, an industrial power, means a sharp drop in the demand for energy and minerals. It is estimated that the halt in production by Japanese steelmakers will decrease demand for seaborne iron ores by 22 million tons. Iron ore prices dropped sharply from $200 per ton to $170 per ton within two trading days. Even if the market predicts large steel demand from Japan's after-quake reconstruction, investors and traders still have not fully restored their confidence in iron ore prices.
However, with the unfolding of after-quake reconstruction, prices of certain commodities will probably rise, especially oil prices. If anti-nuclear voices raised by Japan's nuclear plant crisis grow loud enough and many countries plan to halt their nuclear power development plans, oil prices will surely go up.
Inflation pressure also comes from the large-scale capital injection from Japan's central bank. The March 14 monetary policy meeting alone decided to inject 18 trillion yen ($222 billion) into the short-term monetary market, Japan's biggest ever emergency injection of funds to stabilize the financial markets. The meeting also decided to temporarily inject 41 billion yen ($506 million) into branch banks across Japan. Following that, a series of new funding measures were carried out.
In 2008-09, the peak of the global financial crisis, forceful anti-crisis measures taken by many countries planted the seed of global inflation and asset bubbles in emerging markets beginning in 2010. So, what effects will Japan's emergency measures have on inflation? Japan has long been a major capital-exporting country in the world's financial market. Its massive capital injection will inevitably flow to other countries. This is only a matter of time.
The author is an associate research fellow with the Chinese Academy of International Trade and Economic Cooperation under the Ministry of Commerce