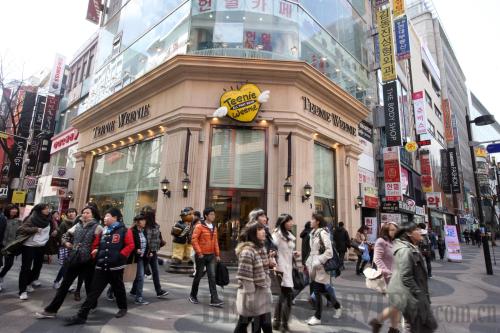 RISING PRICES: Consumers pass a clothing store in Seoul, South Korea. In February this year, the consumer price index in South Korea rose 4.5 percent year on year (HE LULU)
The economic recovery in East Asia remains unchanged on its upward trajectory despite the earthquake and devastating tsunami in Japan on March 11. Growth in East Asia slowed after a sharp rebound from the global financial crisis but is improving nonetheless. The World Bank's East Asia and Pacific Economic Update issued on March 21 projects real GDP growth in East Asia will be smaller than that of 2010 in the following two years. Besides future East Asian economic trends, the report also discusses the impact of the Japanese catastrophe. Edited excerpts follow:
Real GDP growth in East Asia has been moderate after a sharp rebound following the global financial crisis. The slowdown in growth since mid-2010, even though smaller than previously projected, occurred despite a stronger-than-expected recovery in high-income economies and only gradual withdrawal of the monetary and fiscal stimulus across the region. We project real GDP growth will settle to about 8 percent in 2011 and 2012 from about 9.6 percent in 2010.
The trend
Inflation has become the key short-run challenge for authorities in the region, complicated by a surge in portfolio capital inflows and rapidly increasing food and commodity prices that hit low-income households disproportionately. Price shocks are affecting core inflation that could trigger a wage-price spiral. Central banks across developing East Asia have tightened monetary policy only cautiously because of earlier concerns about the durability of the global expansion, expectations that the surge in food and fuel prices may turn out to be temporary, and worries that higher interest rates may boost interest-sensitive inflows.
For many middle-income countries in East Asia, lowering inflation presents difficult policy choices. Most have eschewed the use of capital controls, and allowing exchange rates to appreciate may protect against importing inflation but jeopardizes international competitiveness. And the independence of monetary policy is partially constrained by open capital accounts. This places the bulk of the adjustment burden on fiscal policy where the challenge lies in lowering deficits more rapidly while creating the fiscal space to finance infrastructure to drive future growth and assuring necessary social investments and cash transfers to the poor.
The sharp increase in commodity prices portends increased volatility for the foreseeable future. All commodity prices are on an upswing, some either at all-time highs or at levels exceeding those reached only two years ago. These latest price developments continue the trend that began earlier this decade of a steady climb in real commodity prices, interrupting a decade-long downward trend in the 1990s. Policies to provide incentives and ensure the investment needed to help develop new and greener energy sources, notably with low-carbon emissions and much improved energy efficiency, should be a priority for governments in the region.
Over the medium term, East Asia has the potential to sustain rapid increases in living standards even as the global economy enters a more challenging phase. Unlike the framework of stable exchange rates and closed capital accounts that characterized the background for the rise of Western Europe, Japan and the newly industrialized economies after World War II, the future will likely be dominated by sharply increased volatility in commodity prices, capital flows and exchange rates. If history is any guide, periods of sustained monetary expansion in high-income economies tend to be followed by a surge in global inflation, high nominal interest rates and economic instability. If such a scenario unfolds, as is likely, it will test the resolve of governments in East Asia and circumscribe the policy options available to maintain rapid but steady growth.
China, today the world's second largest economy and its leading exporter and manufacturer, will remain a powerful source of external demand for East Asian producers in the foreseeable future. The trend toward increasing intra-regional trade, with China a larger final consumer of regional products, is likely to continue. And favorable prospects for China augur well for the global and regional production networks into which countries of the region are increasingly tightly integrated. Rising wages in coastal China are forcing companies located there to either move up the value chain or relocate further inland or to neighboring low-income countries. And with China deploying its large foreign exchange reserves, capital flows to the region could rise substantially.
Tighter regional integration will ensure that these trends further boost the international competitiveness of developing East Asia while also providing an engine of growth that is relatively less dependent on the slow-growing high-income countries.
Obstacles
But even as developing East Asia continues to grow rapidly, rising inequality is a matter for concern and could pose a challenge to future social stability. One factor underpinning rising inequality is rapid globalization which raises skill premiums—a phenomenon observed worldwide. Another is rapid urbanization that contributes to high growth rates but at the same time leaves behind lagging regions. Ensuring equal access to education, improving connectivity between leading and lagging regions, and expanding targeted social services are some of the policy responses necessary to ensure inequality does not rise to levels that breed social exclusion and cut growth potential. As much as one third of per-capita growth in East Asia over the last half century was due to the favorable demographic dividend. In the future, however, a rapidly ageing population will slow growth rates in the economies of East Asia unless its effects are offset by faster growth in productivity, larger fixed investment, increased participation in the work force of women, longer work lives and policy adjustments that encourage productivity and help contain ageing-related fiscal costs.
No country has grown to middle-income status without industrialization and urbanization. East Asia's cities have helped support economic growth, but their full potential as the source of innovation and productivity is yet to be realized.
The risks of climate change and natural disasters complicate East Asia's quest for continuous rapid growth. On the one hand, the carbon footprint of the region must be contained: This is the essence of the mitigation agenda. On the other hand, countries need to learn to live with the consequences of a changing climate—the adaptation agenda.
And nowhere is the adoption and implementation of an adaptation agenda more important than in East Asia's urban centers, the concentration of increasingly larger share of output and population. These agglomerations are under the grave threat of extreme weather events, rising sea levels and other natural hazards—some of which, such as earthquakes, are not climate-related. However every natural hazard does not automatically lead to catastrophic loss of life and property. The recent tragic 9.0-magnitude earthquake in Japan—the most powerful in the country's recorded history—and the subsequent tsunami are a stark reminder of the dangers from natural hazards and the key role of careful and thorough investments the authorities have made in seismic safety and emergency preparedness.
Japan's impact
Japan's real GDP growth will likely be negatively affected through mid-2011. Growth should pick up in subsequent quarters as reconstruction efforts in Japan, which could last five years, accelerate. The intensity of these efforts is likely to impact the final cost of the disaster. Private insurers are likely to bear a relatively small portion of the cost, leaving a substantial part to be borne by households and the government.
To assess the possible impact of increased public and private spending on bond yields and lending rates, it may again be helpful to refer to the past. After the 6.9-magnitude Kobe earthquake in 1995, government bond yields declined markedly, with those on 10-year government bonds declining from 4.2 percent in 1994 to 3.5 percent at the end of 1995 and further to 1.7 percent at the end of 1999, thanks to large injections of liquidity by the Bank of Japan. This time, large injections of liquidity by the Bank of Japan and the appreciation of the exchange rate following the unwinding of the carry trade and expected repatriation of funds for reconstruction are similarly combining to create downward pressure on bond yields.
A temporary growth slowdown in Japan will have a modest short-term impact on the region. There are two significant channels to consider—trade and finance.
After the Kobe earthquake, Japan's trade slowed only for a few quarters before recovering. Within a year, imports had recovered fully and exports had rebounded to 85 percent of pre-quake levels.
Over the last five years, developing East Asia's trade with Japan has accounted for about 9 percent of the region's total external trade. On average, assuming Japanese real GDP growth slows by 0.25-0.5 percentage points by mid-2011, exports from developing East Asia may slow by 0.75-1.5 percent. But this time, disruption to production networks, especially in automotive and electronics industries, could continue to pose problems. Japan is a major producer of parts, components and capital goods which supply East Asia's production chains. In Thailand, exporters of cars report that current supplies of components imported from Japan will last through April. Some plants in Japan are already experiencing shortages in parts sourced from the northeast. In electronics, Korean firms are facing higher prices for memory chips, in part because Japan accounts for up to 36 percent of global production and that production is now disrupted. Prices have already risen by more than 20 percent in some categories. China and the Philippines are more connected to developments in Japan than the rest of East Asia; in the Philippines, electronics exports account for two thirds of total exports. In the short-to-medium term, energy producers, such as Indonesia, Malaysia and Viet Nam, could benefit from higher energy prices, as Japan begins to rebuild and tries to close the energy gap caused by the loss of nuclear capacity. Longer-term demand for fossil fuels could remain high as other nations revisit plans for their nuclear electricity production.
About one fourth of developing East Asia's long-term debt is denominated in yen, the Japanese currency, ranging from about 8 percent in China to about 60 percent in Thailand. A 1-percent appreciation in the yen translates into a $250-million increase in annual debt servicing on yen-denominated liabilities held by East Asia's developing countries—about 0.25 percent of the region's aggregate debt-service ratio.
Japan is a significant source of foreign direct investment to East Asia—the largest direct investor in Thailand, the Philippines and Korea, and the second or the third largest in Malaysia, Indonesia and Singapore. At this stage, it is unclear how the disaster will affect Japanese outward direct investment, but it may dent the pace of overseas investment as the country's focus turns inward on reconstruction.