| | |
| --- | --- |
| | |
| SEARCHING FOR SURVIVORS: A Chinese rescuer works in the ruins of a collapsed building in Ofunato, in northeast Japan's Iwate Prefecture, on March 15 (LU XIAOWEI) | RELIEF MATERIALS: Chinese workers put the first load of Chinese relief goods on a cargo plane bound for Japan from Shanghai on March 14 (FAN JUN) |
As of March 16, the Red Cross Society of China had donated 6 million yuan ($913,000) in emergency aid to its Japanese counterpart.
Rescue operations
China sent a 15-member rescue team to Japan on March 13 to help with search and rescue work. The team arrived in Ofunato, a heavily damaged city in northeast Japan's Iwate Prefecture, that night. Early the next morning, team members started work along with Japanese rescuers.
The team consists of seven search and rescue personnel, seven earthquake experts and a doctor.
All team members are experienced, and have participated in earthquake relief activities at home and abroad, Yin Guanghui, head of the team, told the Xinhua News Agency.
Yin said the team's main task was to search for survivors trapped in the ruins. The team brought four tons of materials and equipment for search and rescue and medical treatment.
Ofunato is a coastal city of about 40,000 people near the epicenter of the earthquake. Numerous buildings in the city were destroyed by the quake and tsunami.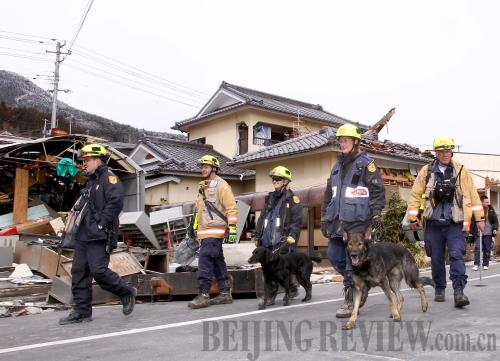 COMING TO HELP: A U.S. rescue team surveys damage in Ofunato on March 16 (CHEN JIANLI)
Peng Bibo, the only medical worker on the team, said the difficulty in mounting rescue operations lies in the complex secondary disasters caused by the earthquake, including the tsunami, fires, landslides and nuclear radiation. This is a typical example of an earthquake in a highly developed industrial country, said Peng.
Due to radiation leakage at the disabled Fukushima nuclear power plant 250 km north of Tokyo, the Chinese rescuers had to bring a nuclear radiation detection device with them.
Global support
Many countries, including the United States, Britain and South Korea, have also sent rescue teams to Japan.
A 102-member South Korean rescue team arrived in Sendai on March 14 to join an advance team of five rescue workers and two search dogs, who had arrived earlier.
The British search and rescue team consisted of 63 search and rescue specialists, two rescue dogs and a medical support team, said the British Foreign Office.
Two U.S. urban search and rescue teams, comprising 144 personnel and 12 dogs, also began work on March 14 looking for people trapped in the rubble of buildings.
"We have offered our Japanese friends whatever assistance is needed as America will stand with Japan as they recover and rebuild," said U.S. White House Press Secretary Jay Carney in a statement posted on the White House website.