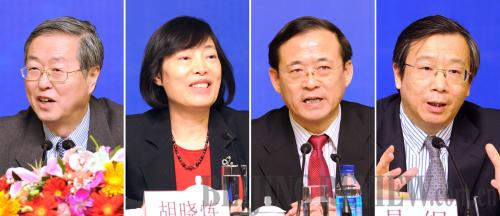 (From left to right) Zhou Xiaochuan, PBC Governor; Hu Xiaolian, PBC Deputy Governor; Liu Shiyu, PBC Deputy Governor; and Yi Gang, PBC Deputy Governor and administrator of the State Administration of Foreign Exchange (GUO ZHIHUA)
During the Fourth Session of the 11th National People's Congress, the People's Bank of China (PBC), the central bank, held a press conference on March 11. Central bank Governor Zhou Xiaochuan and three deputy governors answered questions on the country's monetary policies and financial issues. Edited excerpts of their answers follow:
Inflation expectation
Zhou Xiaochuan: In China, CPI figures are calculated on a yearly and monthly basis. Year-on-year figures are often quoted, but such figures are influenced by the base number from the previous year. In general, the base numbers are stable, but during the financial crisis, the base numbers were unstable. Therefore, when judging year-on-year figures, we should consider the influence of these base numbers.
Consideration must also be given to the influence of festivals, particularly the Spring Festival, or the Chinese Lunar New Year, which comes in January or February. The Spring Festival imposes marked influences on consumption and prices. After considering these factors, we can judge whether inflation expectations are increasing, decreasing or remaining stable.