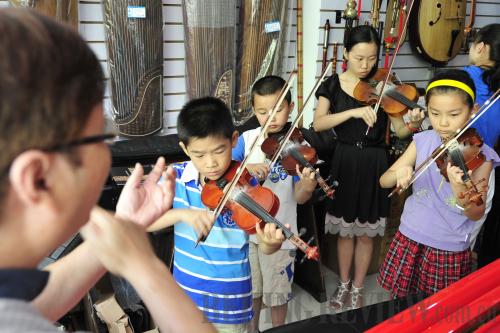 EXTRA ASSIGNMENT: A violin teacher instructs his students at a class (LI ZHONG)

Not long ago what was dubbed the "Tiger Mother" way of child rearing stirred heated debate in the United States, while here in China, the media and school teachers have been advocating a happier learning experience instead of strict discipline.
The Tiger Moms, or tyrannical Chinese parents, tend to force their children to study in order to get the best grades. Amy Chua, author of the controversial parenting book Battle Hymn of the Tiger Mother, is just one typical example. The average Chinese parent has high hopes for their children. Surveys by the China Youth and Child Research Center (CYCRC) find 54.7 percent of involved parents hope their children get a doctorate and 83.6 percent of them require their children to score in the top 15 in class. These requirements, together with those of Chua's, are apparently difficult for most children to achieve. Therefore, children are bound to be under great pressure.
Such tough means of child rearing is somewhat related to the current Chinese education system but also profoundly related to a long-prevailing Chinese tradition: Chinese families usually have great expectation for their kids. Over the past hundred years, China's education is still a parental monarchy, in which the parents rule everything for their children.
It was not until 1990 the sign of modern education emerged. That year the Law of the People's Republic of China on the Protection of Minors came into force. Such a law is consistent with the Convention on the Rights of the Child by the United Nations. But such modern education thinking is still not prevailing in China, and there's a big gap between China and the United States on the views of children and education.
Chua follows the typical Chinese education method in which the parents are the absolute authority and the children should strictly obey or there is much punishment. According to China's law on minor protection and the UN convention, children enjoy rights to life, development, protection and participation. The original version of China's Law on the Protection of Minors didn't include the four rights until 1997 when the law was amended. Thus we should say it has not been even 20 years since China recognized the rights of children. The debate about Chua's educational approach makes me worried whether her example will be copied in China, which would do harm to the development of children. Chua emerged in the public as a spokeswoman for traditional harsh Chinese child raising and encouraged such austere methods that can humiliate and frustrate kids. These include starving them or restraining them from participating in some activities. It would be a horrible thing if such methods become popular.
Many Chinese families now know about children's rights, but they forget to learn how to cultivate their sense of responsibility. As a result, there is the problem of children being let loose. International research has revealed the most efficient home education is the democratic one with the best results in children achieving success, the tyrannical one is the second worst and the least successful home education is the non-interference kind. Chua's home education style is seemingly more efficient than the non-interference one but is not the best. The children cannot all reach the first-class level, they should enjoy the right to choose their activities in which to participate, and the personalities of children vary. Obviously Chua doesn't respect these basic principles.
Kids grow up in the company of their friends of the same age and they grow through their own experiences. Many Chinese families only care about studying, which leaves the children alone emotionally and their mental development is often ignored.
Let children have a healthy personality, and cultivate a good relationship with them, that's crucial to a successful education. Mandatory requirements won't work well on children who are in their rebellious adolescence. My suggestion to parents would be to discover their dreams, to guide them toward the dreams while developing themselves. Thus the children will feel respected and that's a positive force for them to chase their own dreams.
Parents should not blindly follow Chua, whose many thoughts and actions are wrong. One thing we need to ponder is parents should learn how to say "no" to their kids. Children need authority from parents, who are supposed to be their beacon.
The author is deputy director of the China Youth and Children Research Center