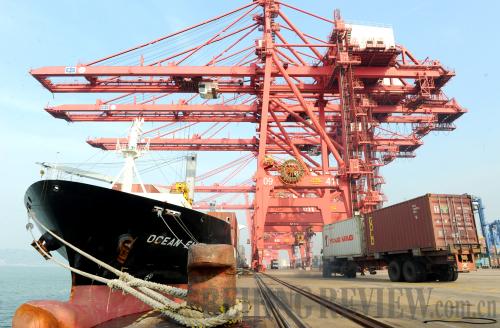 AN EXPORTING GIANT: Cargo is moved at the Lianyungang port in Jiangsu Province on October 1, 2010. China, the world's largest exporter, has been at the center of a number of recent trade disputes (GENG YUHE)
China's rapid growth has exceeded world expectations and has led to some bitter feelings toward the country. Before the financial crisis, the international community's most optimistic prediction was that China would surpass Japan in GDP in 2015. As it turned out, though, China surpassed Japan in the second quarter of 2010.
In China, people have always valued the per-capita GDP ranking more and did not respond much to this shift, but it touched a nerve in the outside world.
Options
Generally speaking, there are three types of attitudes toward China's rise, and three representative groups of countries. The first group of countries sincerely welcomes the rise of China. Most are developing countries in Africa, Latin America and the Middle East. These nations have been increasingly marginalized in the current international system. Although there are many of these countries, their voices have seldom been heard, due to their inabilities to gain a platform on the world stage.
The second group of countries holds an ambiguous attitude toward China's development. They expect to strengthen economic cooperation and strategic coordination with China, but feel uneasy about China's rapid economic development and vastly expanding interests.
The third group holds a hostile attitude toward China. It includes major countries with vested interests in the current international order, neighboring countries with historical or existing disputes with China and other emerging countries jealous of China's extraordinary performance. China's rise intensified their alertness and hostility. What's more, they tend to unite with each other against China. This has caused the aforementioned issues for Chinese diplomacy.
External factors such as U.S. policy changes have added to China's diplomatic difficulties. In 2010, the United States adopted a policy of returning to Asia. This strategic shift is also a remedy for past U.S. mistakes. In the past decade, the United States was preoccupied with counterterrorism and was caught in wars in Afghanistan and Iraq. Often, very little attention was paid to Asia. During those 10 years, China quickly expanded its influence in the region and deepened regional cooperation sprouted up. Now, U.S. strategists are worried about being excluded from regional cooperation and are returning to Asia to rebuild a regional security order with U.S. interests in mind.
This U.S. adjustment coincides with the sentiments of some of China's neighboring countries, who feel pressured by China's economic growth and expect to restrain China with U.S. strength.
China's diplomatic difficulties are inevitable growing pains for a big country and will accompany the whole process of China's rise. China has a population of more than 1 billion and the world cannot be expected to have a calm response to the modernization of a nation of that size. China must not be frightened by suspicions and should instead address them calmly.
In the face of this dilemma, a viable option for China will be to strengthen exchanges with other countries in order to offer the international community opportunities for cooperation.
China-U.S. relations remain a focus of Chinese diplomacy. With the narrowing of the strength gap between the two countries, the United States' Chinese policy is at a crossroads. China will need to engage the United States to help it formulate a rational, win-win policy toward China.
It is also essential for China to properly handle relations with its neighboring countries. China should attach more importance to neighboring countries in its diplomatic strategy, sharing its economic growth with them, while trying to play an active role in maintaining regional order.
The author is associate dean of the School of International Studies at Renmin University of China