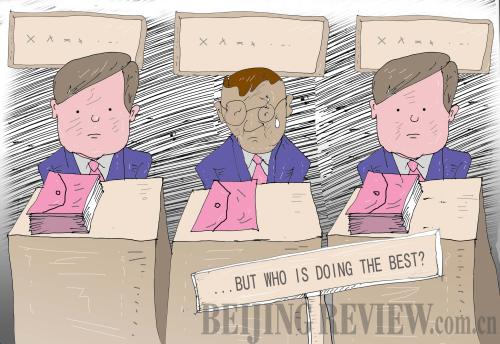 (LI SHIGONG)
A new accountability system was recently adopted by the Henan Provincial Higher People's Procuratorate to enable local anti-corruption agencies to deal with a greater number of corruption cases more effectively. Under the system, heads of the least effective bureaus for combating embezzlement and bribery and for combating dereliction of duty will be laid off from their positions, if their agencies do not show improvement within a set time.
Before 2008, major cases accounted for less than 50 percent of total corruption cases handled in Henan, lower than the nationwide average level. In order to bring more corrupt officials to justice, the Henan Provincial Higher People's Procuratorate explored eight new measures this year, the elimination system being one of them.
The decision has triggered an outcry. First, argue the critics, anti-corruption agencies are not factories and prosecutors are not factory workers, so anti-corruption work cannot be done as if it were on a production line. They say it's ridiculous to set a certain number of corruption cases to be dealt with when there does not exist, in some cases, enough evidence of officials' corruption. Second, when there is a set goal of a certain amount of casework, some prosecutors might arbitrarily deal with cases and even make erroneous cases in order to keep their position as anti-corruption bureau heads. Third, as it is demanded, a certain proportion of the cases must be major ones, some anti-corruption agencies might at first deliberately turn a blind eye to insignificant cases and then wait until the case has developed into something more serious so they might be viewed as netting a bigger fish.
Some people believe quite a number of corrupt officials might have covered up their tracks effectively, therefore making it hard for them to be discovered and thus difficult to be prosecuted. But as long as prosecutors respond actively, it's possible to dig out hidden corrupt officials. So the elimination system is worth a try.
Not as effective as supposed
Nuo Song (Spring City Evening): Although the elimination system is a well-intentioned measure, logically it's ridiculous. The only precondition to apply this practice would be that Henan was already seriously plagued by corruption and almost every official was somewhat involved. Only in this extreme condition would it be necessary and reasonable to launch a large-scale anti-corruption campaign and maybe there would be instant success, but I've never heard the degree of corruption in Henan is so bad that a competition to "seize corrupt officials" is needed.
We all hate corrupt officials and we hope every single corrupt official is removed and punished. But what we ordinary people want to see more of is efficient and clean government. In anti-corruption work, both punishment and prevention matter and the latter is as important as the former.
In a place where corruption is treated as a public enemy, strictly prevented and severely punished, the number of corruption cases will naturally fall. In this case, if there are not enough corruption and bribery cases, anti-corruption agencies should never be blamed for handling too few cases.
Wen Guopeng (Yangtze Evening News): Why do farmers raise cats? The final goal is to make use of cats for the protection of grain against rats. If farmers want to know if the cats are doing well, they only need to check whether the granary is full but not to count how many rats the cats have killed. If farmers only care about the number of big rats killed, cats will have to wait until the rats are grown up.
The final goal of anti-corruption work is not to catch as many corrupt officials as possible, but to make sure that officials are clean. If the number of caught corrupt officials is the final goal of anti-corruption actions, it will be like this: Anti-corruption prosecutors will expect to see as many corrupt officials as possible, because the more there are, the greater their achievements will be.
We understand the Henan Provincial Higher People's Procuratorate's eagerness to fight corruption, but anti-corruption agencies are not factories, so to impose a fixed goal of the number of corruption cases handled is unreasonable.
Xi Xuchu (xhby.net): The elimination system is fundamentally deficient. Under this system, even if officials somewhere are all competent and hardworking, some of them have to be admonished or removed for being graded least effective in performance evaluations.