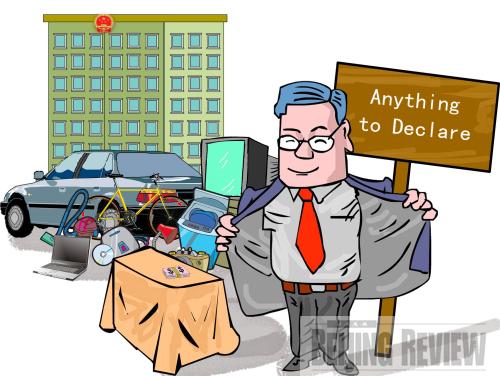 (LI SHIGONG) 
The Beijing-based weekly Study Times, a publication of the Party School of the Central Committee of the Communist Party of China, is the latest media outlet to champion property declarations by government officials, suggesting that this could begin with officials who are to be promoted in the near future. If a newly appointed official refuses to declare personal assets, he or she should resign, said a recent article in the paper.
The article also gave three reasons for choosing newly appointed officials to first test the waters of property declaration. First, since most of existing officials are not required to publicize their property, there will be less resistance; second, for those newly appointed officials, taking the lead in publicizing property will facilitate public scrutiny of them; and third, it lays the foundation for an all-inclusive official property declaration system.
Other media and netizens were, however, critical of the Study Times' proposal. They say it is unfair to impose property disclosure on newly appointed officials when those who have more years' service are exempt.
Getting officials to declare their property has long been an issue in China. As early as 1998, the National People's Congress, China's top legislature, drafted a regulation concerning officials' property declaration. In 1994, the Law on Property Declaration was listed in the legislation plan of national lawmakers. Despite attempts by local governments, a nationwide property declaration procedure for officials has yet to be implemented until today.
Come clean
Li Xingwen (Beijing Youth Daily): A survey conducted by news portal people.com.cn in 2008 revealed that 90.1 percent of the respondents supported a legal system whereby officials could declare their property. Another survey indicated that 97 percent of officials opposed it. Given China's present condition, a policy, if rejected by so high a percentage of officials, will never materialize, in spite of its popularity among the public.
In this sense, the Study Times' proposal is an opportunity for a breakthrough.
In fact, promotion for many officials is quite frequent. If we could start from every newly appointed official, most of officials will have had their property declared after several years.
By that time, officials who have not come clean will be in the minority and the system will be easily established.
Over all these years, China has been pressing reform in a gradual manner, which is a reasonable choice considering the complexity and toughness of reality. The mandatory property declaration among newly appointed officials coincided with this philosophy.
Efforts to establish an official property declaration have encountered great setback. So why not slip back and find a more moderate way acceptable to all parties? In this sense, the mandatory property declaration among newly appointed officials is a wise and practical solution.
Xiu Yangfeng (cnhubei.com): According to the proposed system of property declaration among newly appointed officials, the declaration should be made before they assume new posts. This denotes a deep insight into the human nature. Newly appointed officials, if knowing their promotion were at stake, would not reject the requirement to declare personal assets. So the mandatory declaration will not meet too much resistance, and could be implemented smoothly.
If the mandatory declaration can be approved and implemented, it will lay a solid foundation for all-inclusive declaration. Since newly appointed officials set a good example for their peers, the institution will be easily set up.
Wu Zuolai (Wuxi Daily): It's said the official property declaration system is being stalled because of loopholes that need rectification. Then when can we see a well-developed system? In this situation, why not first have a trial in some places among newly appointed officials? The whole system will be improved in the process of being implemented. Gradually, a sound and rigid official property declaration system will be set up. The attempt is a result of compromise, but it will usher in a new era.
Su Zhenhua (Daily Sunshine): Newly appointed officials will be happy for the promotion opportunities, even if they have to declare personal assets to the public. This is a free choice, and thus they may find it more acceptable. After this system has taken effect, theoretically, in the future, any official who hopes to get promoted has to declare property. As a result, the property declaration system will gradually develop.
By now, 97 countries and regions around the globe have explicit legal regulations on officials' property declaration. As an effective anti-corruption weapon, China must adopt this system. Of course, we hope all officials are willing to declare their property. But in today's China, it seems a bit difficult. So it might be a good idea to let newly appointed officials take the lead in this regard.
Unfair
Chen Yizhou (www.china.com.cn): The property declaration system should point to all officials, so why is a "selective" system put forward? I doubt its effectiveness.
It is argued that most officials are clean and only a small fraction of them have corruption scandals hanging over their heads. If this is true, why are so many officials resisting the implementation of the property declaration system? Maybe some officials don't want to show off their wealth, but it's probable that officials have not put themselves in the right position. They haven't made it clear what are civil servants' rights and what are their obligations.
Civil servants live on taxpayers' money, so it's reasonable for officials to be supervised by taxpayers. Only when officials realize that they are servants to the people, not the privileged elite that administer the people, can we expect the property declaration system to be effective. If this problem is not solved, no matter how many newly appointed officials are asked to declare their property situation, it just won't work.
Yin Guoan (Huashang Daily): To require newly appointed officials declare personal assets means to strengthen supervision. However, this kind of supervision will not be so effective as is thought to be. Only an official who is to be promoted or transferred will have to declare his property, which means, if an official occupies the same post for an indefinite period, then his (her) property situation can be kept as secret. In this case, those who do not see promotion opportunities might exchange power for personal gains as they please and no system will bring them under supervision or punishment. This undoubtedly encourages corruption.
Zhao Yong (Wuxi Daily): Beginning with newly appointed officials is maybe the most practical way at the current stage to promote property declaration among officials, considering its expected role in reducing opposition to such a system. However, if the direction is wrong, that is, if the system only covers newly appointed officials, what is the significance of the declaration system? Even if the system works well with newly appointed officials, it will not necessarily suit their long-serving counterparts.
It's indeed a hard job to implement the property declaration system, but those who are planning to do this must make greater efforts and be more decisive. To start the work with newly appointed officials will only give the pubic the illusion that corruption is rarely seen among Chinese officials.
Qu Sheng (www.nen.com.cn): On one hand, many officials reject the property declaration system; on the other hand, the public wants to see it in place. It's not that the public enjoys probing into others' privacy, but they are worried about rampant corruption among officials. If policymakers really want to divide officials into the "old" and the "new," then I'm sure the public is more interested in "old" officials' property situations because they are believed to have greater access to illegal income. So if the government only covers newly appointed officials in the property declaration system, the public will feel unsatisfied.
The property declaration system needs to cover all officials and it is an important means to win trust from the people.
Cong Xiaobo (www.shm.com.cn): The system of mandatory property declaration among newly appointed officials seems a reasonable one, but actually there are many loopholes. Without external supervision and solely depending on officials' moral standard, who can assure their property declarations will be believable? When the property situation decides whether a civil servant can be further promoted, and coincidentally he or she has some dirty money, will he or she offer to declare his property?
There are mainly two reasons why some officials reject the property declaration system: First, they have taken bribes. If they are clean, they will never stand against it. Second, the legal system in this regard is not well developed yet, and as a result, even if the property declaration system is really put into practice, there are no laws to support it. If there are strict laws that punish all officials who refuse to declare their property, surely no official will have the guts to reject the system.
It is not easy to set up a strict property declaration system overnight. Despite this, a compromised choice actually shows that the government is not strong-minded enough to move forward.