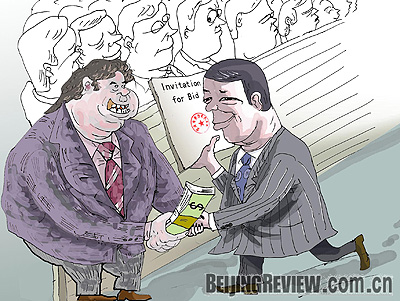 Since July 2008, the local government of Sihong County, east China's Jiangsu Province, has employed 68 anti-corruption inspectors to keep a secret eye on local officials' activities in off-duty hours. The inspectors were chosen from among the ordinary folk in the county, and were required to report on their findings to the Sihong Commission for Discipline Inspection of the Communist Party of China. The people do not know each other and can tell no one of their duties. They report only to two designated officials.
Gao Xuesheng, a local official who designed the system, said that the initiative was launched to provide the public more channels to supervise officials. While officials argued that this clandestine observation could put them under the spotlight, disciplinary officials said that is exactly what they expected from the new system.
According to disciplinary officials in Sihong, when the Central Government put forward the idea of enhancing public monitoring of Party and government officials at the beginning of 2008, the locals were very excited. But they complained at the time that they had no idea how to monitor what officials were up to. And then came the idea of undercover inspectors.
In the past, monitoring of officials' off-duty activities was ineffective. At that time, inspectors were known to officials and were therefore afraid of retaliation, or they would not come down hard on officials who they knew personally. Being anonymous now allows inspectors to report on corrupt officials without fear, and is seen as an effective tool in the fight against corruption.
At the same time, some people are afraid that this secret form of observation violates the privacy of officials. They say that officials are also citizens and their right to personal freedom cannot be abused.
Eyes on
Chen Qinggui (www.gmw.cn): Nowadays, corruption is rampant all around the country and thus employing undercover inspectors is a supplement to the current official monitoring mechanism. Although governments at different levels and the Party have disciplinary departments, we had no active inspectors who can act effectively whenever and wherever we need them. As a result, we only saw something after scandals had occurred. This is not effective. These undercover inspectors, however, fix that loophole.
Public monitoring is an integral part of the fight against corruption. A sound monitoring system can prevent and deter officials from being corrupt. Sometimes we need to fight fire with fire to be effective. Therefore, the practice of hiring undercover inspectors should be encouraged.
Xi Xuchu (www.xhby.net): This kind of secret monitoring focuses on officials' off-duty hours, including their personal lives and social activities. It is because surveys show that the temptation for corruption generally happens after hours.
During office hours some officials may act like saints, but it is a different story in private life. The conventional way to assess an official's performance focuses on his or her work time, but does not cover off-duty activities. Such an assessment will result in an incomplete result. Monitoring their private lives means assessing their real personalities. An honest person is not necessarily a good official, but how can one be a good official if he or she even cannot be an honest person?
The secret monitoring system is more effective and also protects the inspectors. As far as the issue of interfering in the private lives of officials, it should be pointed out that officials have no privacy, as what they do in off-duty hours may influence the public interests. For example, some officials trade power for money or other personal gains after work. Isn't it therefore necessary to monitor them in their off-duty hours?
All attempts on cracking down on corruption should be encouraged. Although we don't know whether this attempt will finally work well, the innovative spirit in trying it is great.