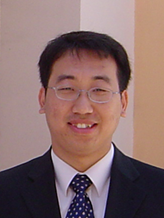 Xiu Faxian
Researchers in China, led by Xiu Faxian's team, measured high conductivity in very thin layers of niobium arsenide called Weyl semimetal. The top journal Nature Materials published the latest thesis Ultrahigh Conductivity in Weyl Semimetal NbAs Nanobelts by the team from Fudan University on March 19.
Xiu's team has discovered that the nanobelts of Weyl semimetal NbAs maintain a high mobility even in the presence of a high sheet carrier density.
Conductive material is the basis of the electronics industry. Currently, the main material is copper which is widely used in transistor conductors. As smart devices get smaller and the amount of information transmission increases, much more transmission pressure is added to conductors. The electrical conductivity of NbAs nanobelts is 100 times stronger than copper and 1,000 times stronger than graphene, which creates a much wider pathway for electronics.
Xiu, a professor in physics at Fudan University, was the corresponding author of the paper. A graduate of Harbin Institute of Technology, he went on to receive a PhD in Computer Science from the University of California, Riverside. His research has included novel topological thin films and nanostructures by molecular beam epitaxy and tube furnaces.