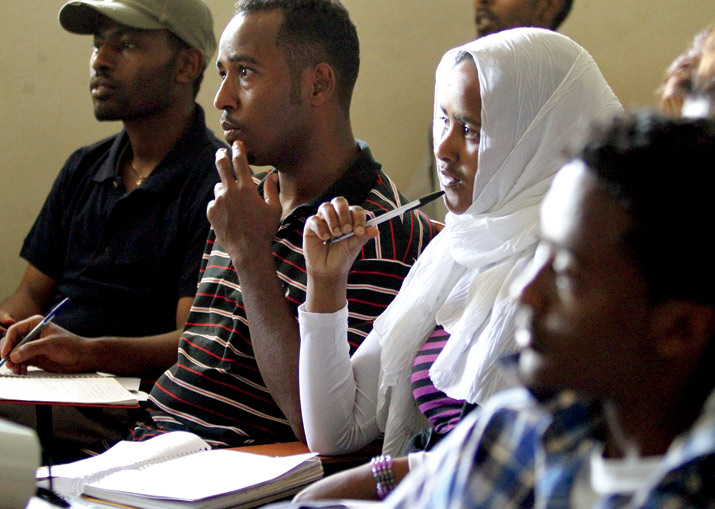 Ethiopian students attend a trainingcourse sponsored by ZTE
ZTE Corp., the Chinese company from Shenzhen that became a leading global provider of telecommunications equipment and network solutions, was invited to attend the First Ministerial Conference of the Forum on China-Africa Cooperation (FOCAC) in 2000. Fifteen years later, Huang Dabin, Senior Vice President of ZTE, tells ChinAfrica how the company and its African partners have cooperated under the FOCAC framework to develop telecommunications in Africa and boost the continent's modernization.
ChinAfrica : How is the telecom industry growing in Africa? What has been ZTE's role in that?
Huang Dabin: Africa is the continent where the communication industry is growing the fastest and ZTE has witnessed the development of Africa's telecom industry over the past 20 years. Since entering the African market in the 1990s, ZTE has been providing quality communication network for African governments, businesses and telecommunication operators, helping them realize information-based administration. Its operations in Africa are promoting the local telecom industry and the informatization of government departments and businesses.
Ethiopia is a good example. In 2007, Ethiopian Telecommunications Corp., [then] the country's telecom operator, and ZTE signed a deal to expand the network capacity in Addis Ababa. Known as the Millennium Project, it had to be completed in five months. The challenge deterred other firms as it would have taken one to two years to finish such an undertaking. However, ZTE cracked it by investing a large capital and putting additional personnel on the job.
Meles Zenawi, former Prime Minister of Ethiopia, spoke highly of the project, saying while the Great Wall is the symbol of China, the Millennium Project completed by ZTE is the symbol of Ethiopia. It ushered in win-win cooperation between Ethiopia and ZTE.
As a member of the Brazil-Russia-India-China-South Africa grouping, South Africa is one of our most important markets. In the decade since it entered South Africa, ZTE has helped plan and build the 1,900-km-long national optical transmission network. Our business operations provide over 2,300 jobs, enhance the competitiveness of the telecom sector, and have substantially lowered telecom charges. They have made distance education available in remote provinces like Kwa-Zulu-Natal and North West, enabling children there to enjoy the same quality education available to those in developed areas.
In Zambia, ZTE helped ZESCO, the nation's largest power supplier, to plan and build a 5,000-km optical transmission network covering 80 percent of the population. ZTE also assisted Egypt, Mozambique and Nigeria build distance education systems. The project in Egypt has trained 700,000 personnel and is spoken highly of by Egyptian education department officials.
ZTE has introduced network solutions for e-governance, traffic safety and online transactions in Africa, which have brought social and economic benefits to both the people and government.
With trade relations between China and Africa booming, the two sides are strengthening cooperation in sectors like telecom and energy. What do you think of the future of cooperation in telecom?
The 20 years when we expanded business in Africa were also the period when the infrastructure of Africa's telecom, energy, and transportation sectors experienced huge improvement. We provided strong support to African homegrown telecom operators so that they could build their own telecom network and break the long monopoly of Western operators. Mobile phones, therefore, are affordable to ordinary people. We are also upgrading mobile Internet services. We provide public security solutions to secure people's daily lives. Our solar power generation system makes electricity accessible to residents in remote areas. We are also working with Chinese businesses investing in railways, highways and industrial parks, providing them the latest information communication technology (ICT) equipment and services to facilitate the modernization of African countries. Some African nations like South Africa, Ethiopia, Nigeria, Equatorial Guinea and Kenya have launched plans to develop their ICT sector. We believe Africa's vast territory, diversified culture, emerging economies and favorable investment environment will ensure the long-term prosperity of its market.
Africa's market has distinctive features. Therefore, Africa cannot copy the European and American experience for its own development. However, both China and African countries are developing economies. Our technologies with independent intellectual property rights and our experiences of fostering businesses are suitable to their needs. With deepening trade relations between China and Africa and the Belt and Road Initiative, ZTE will continue its efforts to support the restructuring of African economies and work with African telecom operators to plan future communication infrastructure. In tune with the initiative by state-owned enterprises to go abroad, we will contribute our expertise to promote communication connectivity and help the establishment of the Information Silk Road in Africa. We will provide cutting-edge ICT solutions to support efforts to improve the transportation infrastructure in Africa.
All in all, we will work with African governments and businesses to foster the development of an ICT sector with African characteristics and help build a more efficient and more intellectual Africa.
How have you assisted in African countries' capacity building?
ZTE has established training centers in 16 countries and regions around the world, three of which are in South Africa, Algeria and Ethiopia. So far, these three centers have trained over 50,000 local technicians.
More specifically, our Ethiopian branch provided free training to 1,000 technicians and donated communication equipment worth $8 million to the training center in Ethiopia. In Equatorial Guinea, ZTE built and helped operate the first communication training school. We hope this project will become a comprehensive communication training platform for West and Central Africa, and even the entire continent, and contribute more to improving the overall telecom infrastructure and bridging the digital gap on the continent.
ZTE's Ethiopia branch has over 600 employees, 50 percent of whom are recruited locally. What is the role of localization in the African market?
ZTE has branches in 48 African countries. Nearly 30 to 40 percent of the employees in these branches are locals. To take root in a foreign market and expand to an international company, Chinese businesses going abroad have to localize in terms of personnel. Business expansion in foreign markets depends on competent personnel, especially local people who know the local market, laws and regulations, as well as customers' demands and preferences. Only in this way can we provide better products and services.
ZTE has been highlighting localization since it set eyes on the international market. The essence of being an international company is to localize the business.
While developing business in Africa, how have you performed your corporate social responsibility?
We are committed to United Nations Global Compact (the UN initiative to encourage businesses worldwide to adopt sustainable and socially responsible policies). ZTE is dedicated to various charity causes and the harmonious development of the economy, society and environment.
We contribute to the well-being of women and children. In 2013, we donated 1 million Algerian dinar ($9,300) to the SOS Children's Village in Algeria. In South Sudan, we donated 1,000 customized bags for children. In September 2014, we built libraries for three schools in Addis Ababa, and presented them with sports equipment. We also made donations to women and children's foundations in Kenya. In addition, ZTE has spent over $20 million on its corporate social responsibility projects in Ethiopia. There are many other cases.
Besides, we brought green technology and energy to Africa in an effort to protect the local environment. We have built 369 "green" mobile networks in Africa. The capacity of those solar systems is over 3 MW, saving $24 million in cost and reducing carbon dioxide emission by 45,000 tons annually.
ZTE was awarded the 2013 Frost & Sullivan Award for Technology Leadership in Africa for its green products and solutions that contribute to addressing power scarcity and pollution in Africa.