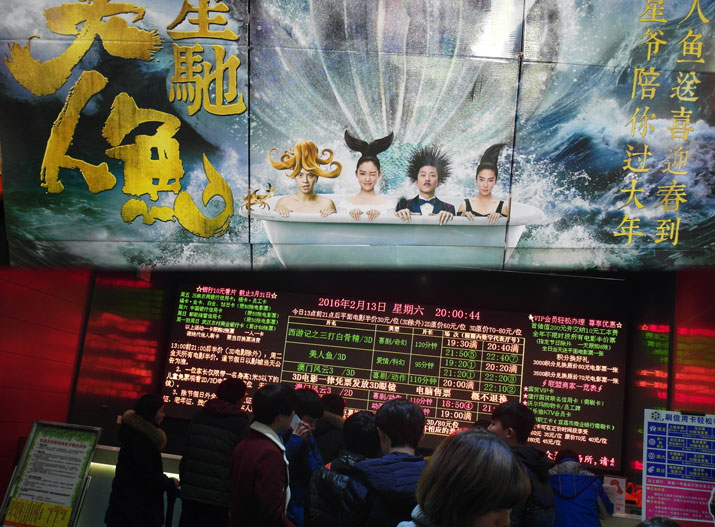 (CFP)
China's domestic film market is continuing to smash box office records, breaking new ground during the Spring Festival holiday, which lasted from February 7 to 13. Box office revenues from February 8 to 13 reached 3 billion yuan ($460 million), the largest amount recorded for that period and a 67-percent year-on-year increase, according to the State Administration of Press, Publication, Radio, Film and Television (SAPPRFT). The Spring Festival has become a moneymaking period for the film industry with more and more families going to the theater to celebrate the holiday.
Three films by Hong Kong directors accounted for about 94 percent of the box office takings: Stephen Chow's comic fantasy The Mermaid , Cheang Pou-soi's The Monkey King 2 and Wong Jing's crime comedy The Man From Macau 3 . Chinese-American computer-animated comedy Kung Fu Panda 3 , which hit theaters on January 29, grossed 200 million yuan ($31 million) over the holiday. The Monkey King 2 , based on the classic Chinese novel Journey to the West , also hit screens in North America, Europe, Australia and other parts of Asia over the Spring Festival.
China's film market as a whole has seen robust growth in recent years, with its 2015 box office revenue totaling 44 billion yuan ($6.8 billion), according to SAPPRFT statistics. Domestic films accounted for about 62 percent of the revenue. Among the 81 films that took in more than 100 million yuan ($15.4 million), 47 were domestically produced. Altogether, 1.26 billion tickets were sold in 2015, a 51-percent year-on-year increase.
In comparison, box office revenues in the United States--the world's largest film market--surpassed $11 billion in 2015, a 5.8-percent increase, according to Boxofficemojo.com, a U.S. website that tracks movie revenue.
"The Chinese film market is the strongest driving engine for the world film market and has the largest potential for growth in the world," said Yin Hong, a film and television studies professor at Tsinghua University.
He predicted that China will overtake the United States to become the world's largest market in two to three years thanks in large part to the number of cinemas being built in smaller cities across the country. Young people from smaller cities are becoming a new moviegoing force.
But the domestic film market has had help from the government in the form of a quota system for foreign movies, with just 34 foreign films screened in Chinese cinemas each year. The film industry also benefits from a domestic film protection month--June 10 to July 10 every year.
A maturing industry
Still, domestic films have rapidly improved with genres being further developed, including fantasy, comedy, animation and costume dramas. Fantasy films in particular have achieved commercial success with Monster Hunt and Mojin: The Lost Legend raking in 2.4 billion yuan ($368 million) and 1.6 billion yuan ($245 million), respectively.
The increase in the number of fantasy films is indicative of a maturing domestic film market, said Zhang Zhihua, a professor in the School of Art and Communication at Beijing Normal University.
Comedies, such as Pancake Man , Goodbye Mr. Loser and Lost in Hong Kong , scored high in box office takings. Reality show movies--which have evolved from their namesake TV counterparts--have been harshly criticized by renowned comedy director Feng Xiaogang, in spite of their glittering box office results. Feng said the genre is poorly influencing the industry's development and distracting filmmakers from making films on more substantive themes.
The Monkey King: Hero Is Back , which is also based on the classic fantasy novel Journey to the West , took in nearly 1 billion yuan ($153.5 million), marking a breakthrough for domestic animated movies, and bolstering confidence in the genre. Chinese animated films previously rarely made more than 100 million yuan ($15.4 million).
Another genre marking new ground is art films, which increased in number and received favorable reviews despite mediocre box office performances. Artistic martial arts film The Assassin , directed by Taiwan-based director Hou Hsiao-hsien, was officially selected for the main competition section at the 2015 Cannes Film Festival.
A number of first-time directors made their debut last year, such as Xin Yukun, who directed Deep in the Heart , and Monkey King: Hero Is Back director Tian Xiaopeng.
The emergence of new directors is not a coincidence, according to Yin. Moviegoers' tastes have evolved as the film market in smaller cities becomes increasingly saturated. "The main consumers of movies, young people who have grown up exposed to the Internet, have also contributed to the growth of new directors," he said.
Adapting popular novels and classics has also attracted larger audiences. Many of last year's most popular films were adaptations, such as Monkey King: Hero Is Back and Monster Hunt , which is based on Strange Stories From a Chinese Studio , written by novelist Pu Songling (1640-1715). Mojin: The Lost Legend was adapted from a popular Internet novel The Adventures of Three Tomb Raiders , written by Zhang Muye.
Not all that glitters
Box office revenue reached new heights in 2015 but the domestic film market still faces a number of headwinds, including how it generates its revenue.
Hollywood makes the majority of its profit through film products, such as toys and video games, rather than through the box office. Indeed, box office revenue accounts for just 20 percent of Hollywood's revenue. Conversely, it accounts for 90 percent of the Chinese film industry's profit. Chinese film companies have attached importance to developing by-products in recent years, but their products have fallen short of expectations in both creativity and quality.
"The income of one film company in Hollywood may amount to the total of all Chinese film companies added up together. The overreliance on the box office needs to be changed immediately," said Chen Shaofeng, Deputy Director of the Institute for Cultural Industries at Peking University.
Another dilemma is that films with high acclaim do not necessarily see box office success, while those with lower audience ratings have raked in box office earnings. For example, Running Man , based on a reality show, netted $70 million in earnings, despite being rated 3.4 points on a 10-point scale on Douban.com, China's leading entertainment review website. In contrast, The Assassin , which won the best director award at the Cannes International Film Festival and five awards at the 52nd Golden Horse Awards in Taiwan last year, brought in just 58 million yuan ($8.9 million) on the Chinese mainland.
Younger audiences are largely contributing to this trend. They account for the majority of moviegoers and pay more attention to actors and actresses, rather than a film's content, said Han Yi, General Manager of Beijing Glory Pictures.
Last year saw a surge in integrating the Internet into the industry with various online platforms making it easier and cheaper to buy tickets online. Some tickets went for 10 yuan ($1.5) or 20 yuan ($3) through group-purchase websites and other ticket purchase platforms. Around 60 percent of last year's total box office earnings were made online, according to 1905.com, the official website of the movie channel of China Central Television. However, these low-price tickets are unsustainable and experts worry audiences will be unwilling to pay a higher price later on.
A number of Internet companies, such as Alibaba and Tencent, are looking to get in the industry and have set up their own movie companies, such as Tencent Pictures, which was established last September.
While the Internet has provided new avenues for production companies to raise capital, it has also lowered the threshold for entering the industry. Many streaming websites have established their own film productions, which are entertaining but fail to delve into serious themes.
Copyedited by Jordyn Dahl
Comments to jijing@bjreview.com